Mobile developer Mountain Sheep has provided us details and screenshots of its upcoming 3D action shooter Minigore, to be published by Chillingo.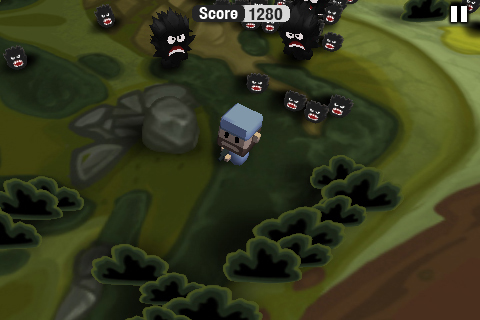 Minigore puts you in control of a little square fellow known as John Gore, using two virtual sticks in an iDracula-like control arrangement.  Your mission is to defend John from "the Furries," hairy, round creatures with particularly sharp teeth.  The Furries come in three shapes and sizes: the small Minifurry, the Furry, and the lamentable Giant Furry.  But be warned — blast a Giant Furry and the problem only gets worse; it will split into several Furries which, if destroyed, themselves split into Minifurries.  It's Russian Nesting Dolls with a vengence.
The developer speaks a bit about the game's inspiration.
On the gameplay front Super Stardust HD is certainly a really big source of inspiration, but it was iDracula that showed us you can really make dual stick gameplay work on the iPhone…. Other stuff that has been really inspiring is the old PC-game Alien Phobia II and the mother of all classics, Pac-Man.

In Pac-man, you had the powerup that allowed you to turn the tables and eat everything in your way, right? Enemies included. In Minigore, we're taking a similar approach. We allow you to get out of a tight spot by turning the game of avoidance into a game of catch. Except we do it with style! You collect four-leaf clovers that grow from the blood of your enemies. Once you get a certain number of them, your inner beast is triggered. In the beast mode you're literally on fire and you can then run around and eat all the Furries nearby. It lasts for while, then the beast is tamed and you transform back to normal….

The beast mode opens up many interesting gameplay mechanics with bosses like the Wormwolf, which will headline one of the updates after launch. Normally, it tries to spiral towards you and you have to move out of the way. Shooting the worm makes it drop clovers but doesn't harm it. When you've picked up enough clovers you transform into the beast form and you can just stand still and the Wormwolf will spiral straight into your mouth! The thing is, it takes a while to eat such a large creature and the beast mode won't last forever, which means you need to step out of the way in time.
As mentioned by Mountain Sheep, updates bringing extra characters and features will follow the initial release.  The developer indicates that they are determined to bring a very high quality title to the App Store with this release and, as such, are taking their time in implementing the final details.  Minigore is expected to debut in June for a price of $.99.
See the developer's teaser video for a closer look.
We are expecting a video from Mountain Sheep showing more of the in-game action very shortly. Stay tuned.