Drop 7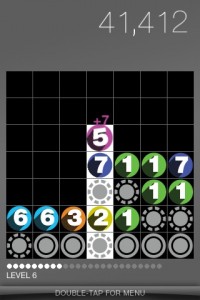 Drop 7 Lite (Free) – We enjoyed the full version of this number puzzler when it was released back in February. The Lite version gives you a chance to give it a try on your iPhone.
The game involves dropping numbered discs into a row/column. Whenever the number of the disc matches the size of the row/column that the disc is in, it will disappear. In practice, it's more difficult and interesting than the description.
The latest update to the full version includes Global High Scores as well as Facebook Connect compatibility.
There's also a similar Flash version called Chain Reaction that can be played in your browser.
Bobby Carrot 2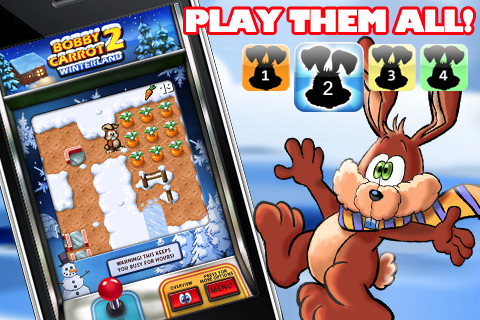 Bobby Carrot 2 ($0.99) – The second classic version of Bobby Carrot was released this week. FDG is going back to and porting the original mobile phone versions of Bobby Carrot to the iPhone with reworked music. This version contains 50 levels in all. Be sure to try Bobby Carrot 1 Lite for a taste of the gameplay. Meanwhile Bobby Carrot Forever is their flagship iPhone native product which we loved.
Nintaii
Nintaii ($0.99) – This was originally an award winning game for the Blackberry which has now bee ported to the iPhone. With 100 levels, it seems a bargain at $0.99. Long-time readers will remember that CubicMan Deluxe had a very similar gameplay.
The goal is to move the block to the proper spot on the map, but it takes some manipulation to get it there. The game appeared on our radar again after Concrete Software released a Lite version that is strangely priced at $2.99. We're assuming a pricing mix-up rather than a strange misguided marketing experiment, so if you give it time, you may be able to try-before-you-buy.
Ouch!
[ Full HD version | Low Bandwidth version ]
Ouch! Lite (Free) – Ok, I'll be honest… I'm not sure I understand the appeal of rag-doll simulators, but it's out there. Ouch! is a open-ended game where you fling your customizable "rag doll" around inflicting damage for high scores and glory.
If that sounds appealing to you, take the Lite version for a spin or buy the full version [App Store] for $2.99.