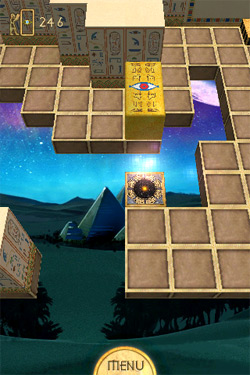 Last month we covered Passionfool's 3D puzzle game CubicMan for jailbroken iPhones. We were happy to see that an updated version of this title was in place on iTunes App Store launch day. The new version, Cubic Man Deluxe [App Store] from TeemSoft, is a much more polished evolution of the jailbreak original.
Gameplay on the new version remains basically the same as the old. As the YouTube video demonstrates, CubicMan Deluxe presents the user with an isometric game grid and the challenge of manipulating a rectangular object in such a way as to stand it up on a designated grid square, thereby moving to the next level. It's simple and fun, but also highly frustrating–in a good way.
The core difference between the jailbreak version and the new release is a dramatically updated graphical look. The App Store version features backdrop graphics as opposed to a plain black field as well as the addition of walls and other edge boundary objects, all of which are now textured with Egyptian style graphics. It's much easier on the eyes and makes for an overall more pleasant gaming experience.
CubicMan Deluxe features 80 unique levels of progressing difficulty, with new types of challenges appearing as the player moves through the game.
CubicMan Deluxe is a remake of the Flash game Bloxorz
Game Details
Name: CubicMan Deluxe v1.0
Developer: TeemSoft, Inc.
App Store Link: Buy
Price: $4.99 $2.99