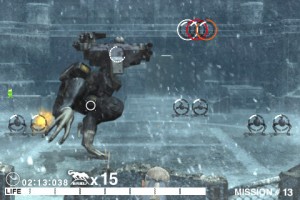 With the volume of new apps and updates, we sometimes miss posting a few during the course of the week. Here are a few notable updates that hit this past week. All updates are free for existing owners of these games.
Metal Gear Solid ($7.99) – Konami delivered their "full" version update to the game which adds 8 missions to the original release. The update is available for free through iTunes. Aside from the new levels the game also adds some enhancements to the existing levels. Existing owners seem to be enjoying the update but the game is still simply a well implemented tap-to-shoot game.
Rolando ($4.99) – Ngmoco released another of their weekly updates that offers two more secret levels to the original game. Ngmoco is planning on updating Rolando each week up to Rolando 2's release, so keep checking iTunes.
Flick Fishing ($0.99) – Freeverse released a major update this week for their very popular fishing game. Aside from the usual bug fixes and tweeks, Freeverse added a new "Fish Net" feature which lets you compete with others.


You can create a new Fish Net or enter a short code to join an existing one created by your friends, co-workers or even one of the public ones that Freeverse (and others) will be hosting. On each Fish Net whoever catches the biggest fish in any game mode will have their name bragged around that whole net. The best bit is that you don't have to be online at the same time, the top fish is stored serverside so the other players will hear about it (and curse your name if you just beat their top fish ).

A later update is expected to bring more formal online tournaments.