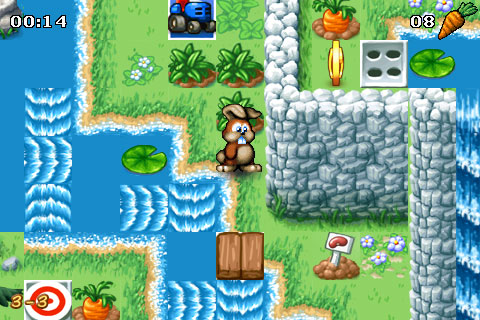 Despite all the great iPhone games that are out there, the have been a few common deficiencies that we've seen even amongst the premium titles. One has been that level-based puzzle games have tended to be too short or too easy. While I very much enjoyed titles such as Loopy Laboratory and Mouse House, the process of completing them had a bit of a "paint by numbers" feel to it. While there have been challenging moments, in many cases, there might just be one obvious solution. And, in the end, that can leave you a bit unsatisfied.
FDG Entertainment's Bobby Carrot Forever [App Store, $7.99], however, delivers a refreshingly challenging game that should keep you occupied for some time. While the official gameplay estimate is said to be over 15 hours, I believe that this is likely a conservative estimate for most.
Bobby Carrot Forever is a level-based puzzle game similar to Chip's Challenge in which a number of objects must be collected in order to open the exit. In this case, the objects are (unsurprisingly) carrots. In your way, however, are a variety of obstacles that you must manipulate in order to reach your goal. Several objects require triggers to activate. In order to turn on the tractor, you must get the fuel canister first. To climb over certain obstacles, you will need to seed the ground with beans in order a bean stalk to grow. In the meanwhile, Bobby Carrot must navigate breakaway floors, one-directional pathways, switches, kites, fans and much more. The game also offers a "shop" where you can purchase upgrades (faster tractor, different background music, etc…) for use in the game. Levels also contains some hidden bonuses and unlockables to keep things interesting.
Bobby Carrot comes with 60 levels split across 6 worlds of 10 levels each. Each world has a difficulty rating of low, medium or high. Don't be fooled, though. Soon after you start the game, you'll find yourself restarting many of the low-difficulty levels trying to figure them out. In the end, however, this is what makes this game great, and one the best values in the App Store despite its relatively higher cost ($7.99).
While the game itself is excellent, there are a few interface issues that you may notice in the gameplay video that we feel should be tweaked in future updates. The current method to restart a level is somewhat awkward which requires you to turn the iPhone from landscape to portrait to pull up the menu. This becomes more noticeable in more difficult levels that you might be restarting often. The controls for the game involve tapping on the four edges of the screen: top/bottom/left/right to move the character appropriately. While this solution is effective, some (including myself) tend to prefer a swipe control system. Finally, there is no way to replay a single level in the current version. Instead, an entire world must be replayed. The developer appears aware of these issues and is planning on addressing some of these shortcomings in a future update.
Still, these are relatively minor interface issues that don't significantly detract from an otherwise solid game. This game is easily a "must have" for fans of these types of puzzle games and is highly recommended for others.
Our gameplay video shows two of the levels (complete with a few failed attempts).

[ Full HD version | Low Bandwidth version ]
Game Details

Name:

Bobby Carrot Forever (v1.01)

Price:

$7.99 [Buy]

Developer:

FDG Entertainment

Size:

39.9 MB

Device:

Tested on iPhone 3G
Bobby Carrot Forever

is a level-based puzzle game that requires you to navigate obstacles in order to collect all the carrots and reach the exit. 60 levels provide a refreshingly challenging puzzle game that offers well over 15 hours of gameplay. This game is easily a "must have" for fans of the genre and is also highly recommended for others.