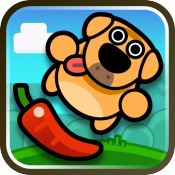 I love Halfbrick's Jetpack Joyride [Free], and if you like good iOS games, chances are you like Jetpack Joyride too. In fact, I'd like even more Jetpack Joyride, which, oddly enough, is where Big Pixel Studios' Off The Leash [Free] comes in. You're likely thinking to yourself, "But it seems obvious from the name alone that Off The Leash has to do with dogs, what does Jetpack Joyride have to do with anything?" I'll explain.
You know how we raved about Jetpack Joyride's mission system, its hefty in-game store full of customizables, and other single-user consumable perks? Well, Off The Leash does an incredible job of utilizing incredibly similar underlying systems to keep you playing game after game while feeling entirely new and fresh. In fact, in light of the recent NimbleBit cloning drama in the past week, it's seems particularly important to tip our hats at games like Off The Leash that utilize these mechanics that work so well, but only as part of building an entirely new game experience.
In Off The Leash you initially control a single dog. It almost has a Mega Jump [Free] feel to it in that coins are everywhere, and you tilt your device to move your dog around to collect them. There's also food to eat, and various power-ups to snag.
The premise of the game has you running from the police, as apparently dogs have been banned. This lends itself to my favorite gameplay mechanic, the dog rescue system. Since the cops are out in force to catch you (and presumably, all other dogs), you've got to snag every other dog you come across and recruit them into your coin collecting food devouring feral dog pack.
As you collect more dogs, you run in what could be best described as a massive canine swarm. Your dog friends you've picked up form behind you in a almost bird-like flying V formation which greatly increases the amount of coins and food you can pick up since any dog running into any coin or food product counts towards your total.
It's not that easy enough, as there's obstacles which make you lose dogs as the errant corners of your formation bumps into them. Thankfully, touching the screen makes your dogs form up in a line, but doing so greatly decreases your speed, which is really counterproductive since the game ends when your dog pack fails to make it through a checkpoint before you run out of time- Sort of like an old school racing game.
Like most of these games, you quickly find yourself in a rhythm of tilting tilting and tapping and the whole game melts away into this crazy dog pack management experience as you're trying to go as quickly as possible without losing any of your puppy pals. There's power-ups you can collect too such as your standard speed boost, time extension, a familiar coin magnet, and my favorite: DOUBLE DOGS. Collecting this power-up instantly doubles the dogs in your pack, which can result in a silly amount of dogs on screen.
Just like Jetpack Joyride, Off The Leash is totally free to download and play, with no ads or other restrictions as far as I can tell. Instead, it's monetized through selling coins that are then used to buy cosmetic upgrades, better power-ups, and golden whistles which basically act like extra lives to keep playing if you fail to make it through a checkpoint. There's also a similar permanent double coins add-on for 99¢, which seems to be a good place to start if you like playing the game since you can just earn coins for everything you'd want to unlock anyway.
I'm really sort of shocked by how much I find myself enjoying this game. The difficulty curve seems great, Jetpack Joyride already proved that this payment model works, and I love how they take the foundation that worked so well for Halfbrick but created what feels (and, really, is) an entirely new game around it. For the low, low price of free, you really shouldn't miss Off The Leash.
Free
Off the Leash
Reviewed by
Eli Hodapp
on . Rating:
4.5