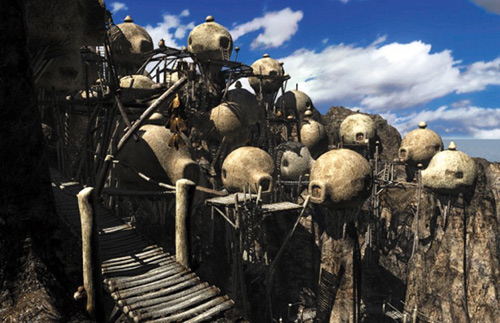 Early this year we got word that Cyan's Riven: The Sequel to Myst, would be making its way to the iPhone. An update came in a Myst online forum post by Cyan's Mark DeForest ('Chogon') back in August, including a few screenshots and an indication that an iPad version, Riven HD, would follow the iPhone release into the App Store.
This past Saturday, DeForest announced that Riven has finally been submitted to Apple and that we can expect to see it in 10 days to two weeks.
A number of specifics concerning this release have been revealed in Cyan's Riven for iOS forum thread.
The version that was submitted is the iPhone / iPod touch release -- Riven HD that specifically supports the iPad will come later. (Of course, like all iPhone games, it can be played on the iPad in the shrunken fashion.)
The iPhone version was not written to specifically take advantage of the iPhone 4's Retina display, but the source images that make up the game are 608x392 pixels in size, which iOS scales down to 480x320 on older displays. The iPhone 4, thanks to the way iOS handles the scaling, will take advantage of the image's source resolution to render them more clearly on the Retina display.
This initial release contains Game Center support, but in a limited fashion. There is one achievement and a score leaderboard for the fastest time getting to the end of the game. "Tons" of achievements and OpenFeint integration will come in a future update.
The game features an integrated Shake-A-Hint system, with various settings, that highlights action points to help stuck players along.
The game is huge -- it will require 2GB free to install (though some of that will be freed up once the install process is complete).
Riven will launch at a price of US $5.99
We'll be sure to let readers know when Riven: The Sequel to Myst goes live in the App Store.
Cyan's classic Myst [link] arrived in the App Store in the Spring of 2009 and is currently priced at $4.99.