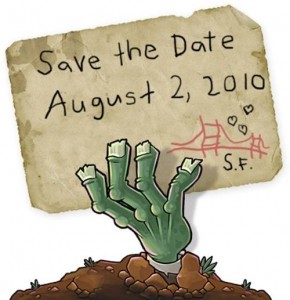 An ambiguous image has been making the rounds over the weekend as casual game development king PopCap has sent out save the date emails for August 2nd in San Francisco, CA. This is quite literally all we know right now, but judging by the wild success of both the original Plants vs. Zombies for the Mac and PC, as well as the chart-topping Plants vs. Zombies [$2.99] and Plants vs. Zombies HD [$9.99] for the iPad, it's no surprise that PopCap would be making a sequel.
If this is the first you've heard of Plants vs. Zombies, here's the gist of the game from our review:
In Plants vs. Zombies, Popcap takes the standard tower defense formula and greatly simplifies it. Instead of a path to build towers along, you drop seeds in your yard which then grow in to plants that have various offensive or defensive capabilities. The yard is organized in a grid, and zombies move straight across the row they spawn on, munching (or in some cases jumping or flying over) anything that they come in contact with.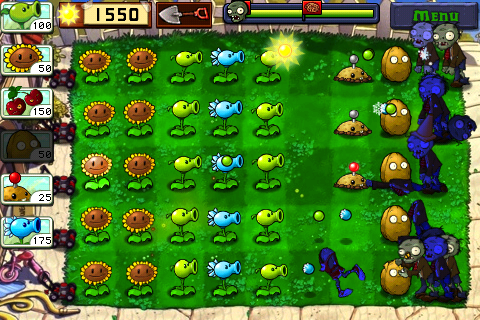 A gauge on the top of the screen shows how close you are to the end of the level, with flags indicating when big waves of zombies are going to come. When you clear a stage, you're often awarded with the seeds of one more of the nearly 50 included plants. This seemingly constant progression does a great job of keeping you interested, as it always seems like you have a new toy to play with. To shake things up even more, mini game levels are mixed in, including a bowling game of sorts, a whack-a-mole game with zombies, and others.
We awarded Plants vs. Zombies for the iPhone 5 stars, and the iPad game is worth a look too as it includes a survival mode, more mini games, and the graphics look simply fantastic on the iPad screen. PopCap seems to have a knack for creating fun games that appeal to everyone from the most hardcore FPS player to your grandma, and I expect Plants vs Zombies 2 to be no different. It seems a sequel is inevitable, I just hope they release it simultaneously on the App Store instead of making iOS gamers wait nearly a year for a port like the first Plants vs Zombies.