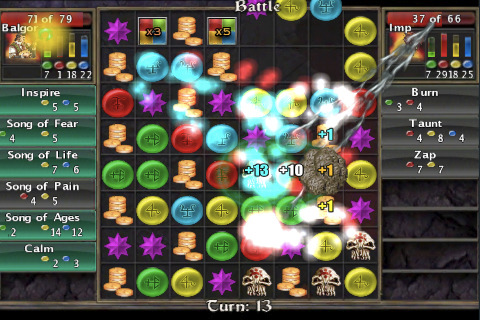 As promised, TransGaming has delivered a free trial version of Puzzle Quest [App Store, Free].
This introduction to Puzzle Quest offers you the ability to create your hero, embark on some quests, and learn to battle on the head-to-head puzzle board.
To further stimulate sales, TransGaming has also simultaneously dropped the price of the full version of Puzzle Quest down from $9.99 to $7.99 [App Store]. As we previously reported, the full version of Puzzle Quest will be getting a Chapter 2 update included in the coming weeks. This should offer over 40+ hours of gameplay total.
Puzzle Quest is a very highly rated game on multiple platforms. If you've never played the game, you might be surprised by fun to be had in an RPG Match-3 game. With a free trial version now, there's no reason not to try.
App Store Links: Puzzle Quest Free, Puzzle Quest, $7.99