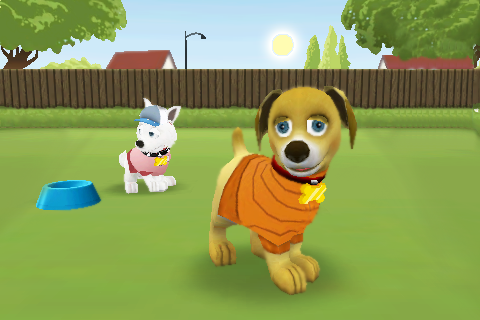 Gotta hand it to Ngmoco for mixing it up and not standing still. Ngmoco has posted details about their next game for the iPhone and iPod Touch: TouchPets Dogs.
In Touch Pets Dogs, players adopt, nurture and play with their virtual puppies through one-on-one touch screen interaction or on play dates with other players' dogs from around the world. The ambitious Touch Pets social network, embedded within the game, allows owners and dogs alike to build relationships with other players and their Touch Pets. Puppies' social lives continue to evolve whether their owners are logged into the game or not, and the results are broadcast for the world to see on the Touch Pets social network dog feed.
The design of Touch Pets is led by Andrew Stern, one of the original creators of Virtual Babyz, Dogz and Catz.
The 3-D pups can be personalized with new clothing, accessories, toys, grooming tools and other doggie gear. There are 5 breeds to choose from, and can be trained to fetch, catch and do tricks using a variety of touch and tilt controls. Dogs can grow into one of 5 careers (Crime-fighting, Science, Rescue, Fashion and Political tracks) with dozens of career missions available to play.
Ngmoco provides this trailer video:
We first heard mention of TouchPets Dogs at the iPhone Intelligence Party at Macworld San Francisco 2009 in early January. The game is due for a Spring 2009 release.