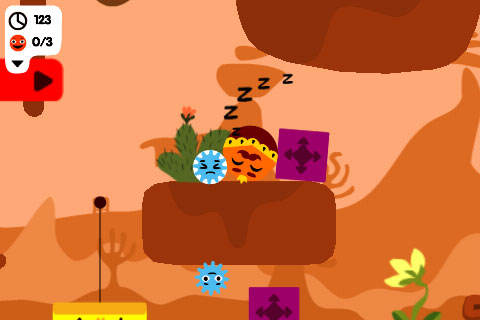 So, for some reason you didn't buy Rolando. Maybe it wasn't your style or you didn't believe all the positive reviews. Or maybe you just didn't like to feed into the hype. Well, here's your chance to give it a try. Rolando Lite [App Store] is now available.
We reviewed the game in December and pretty much loved it:
The most striking part of the game, however, is the level of polish and production of the entire title. The style, music, and humor that is delivered adds as much to the experience as does the gameplay. The Rolandos will frequently address you at the beginning of each level to progress the plot, and you will genuinely feel bad when one gets killed.
The game has since seen a price drop to $5.99, so you can get it at a discount if you like the Lite version.
The Lite version actually has a lot of play in it and appears to contain the first world (though we haven't finished playing it out). Be sure to see the "Credits" screen as well.
Definitely a "must try" if you don't have the full game already.
App Store Link: Rolando Lite, Free, Rolando, $5.99