In the late '90s BioWare had proven their ability to create a deep and engaging RPG using a popular license with the seminal Dungeons & Dragons-based Baldur's Gate, putting them on the map in a big way. In 2003 they landed one of the biggest properties in the universe (or rather, the galaxy?) with Star Wars and worked their special brand of RPG magic to produce Star Wars: Knights of the Old Republic, or KOTOR for short. To this day KOTOR still stands as one of the best Star Wars games ever made, and in the summer of 2013 it made its way to the iPad courtesy of Aspyr Media and turned out to be an incredibly great fit for a mobile device. At the end of 2013 an update hit making the game Universal and bringing the KOTOR experience to iPhone players as well.
As fans of KOTOR know though, BioWare tapped Obsidian Entertainment to create a sequel called Star Wars Knights of the Old Republic 2: The Sith Lords (or KOTOR 2 for the sake of everyone's sanity) that released in December of 2004 and matched, and some would say exceeded, the high bar set by the original. With the mobile release of the first KOTOR doing so well, many folks figured that a KOTOR 2 mobile release was a shoo-in, myself included. In May of 2015 an ESRB listing mentioned a KOTOR 2 release from Aspyr that included Linux, Mac, and mobile.
However, while the Linux and Mac versions showed up in July of that year, a mobile version was nowhere to be found. Instead Aspyr asked fans to register their interest in a mobile release on their website. Curious. A mobile KOTOR 2 never did arrive and it wasn't until Star Wars Day, May the 4th, of 2018 that we even got any sort of hint from Aspyr as to what was going on. They said at that time: "KOTOR 2 mobile isn't on the horizon." That emphasis was in their original message, and while it wasn't a definitive "It's NEVER coming out!" message, it sure felt like one. That was the last we had heard about a mobile KOTOR 2 and many folks, myself included again, figured that what seemed like a certainty just a few years prior now seemed like something we'd never get.
Well, this week is the 16th anniversary of the original release of KOTOR 2 on the Xbox, and I can't possibly think of a better way to celebrate that birthday than Aspyr announcing that FINALLY the game is releasing on iOS and Android devices. Don't pinch yourself, you're not dreaming! Here's a trailer.
What were the issues that prevented the game from launching on mobile back in 2015, when it seemed like a certainty? I have no idea, and honestly I just don't care, as KOTOR 2 is now coming to mobile for reals and that's all that matters. And it's coming extremely soon, too: December 18th, just about ten days from now. The game will be premium and cost $14.99, and you can pre-order the iOS version on Apple's App Store here or pre-register for the Android version over on the Google Play Store here.
Now, it's hotly debated among fans which KOTOR is actually the superior KOTOR. Some feel that the first game had a stronger story and more defined sense of direction, whereas the sequel had a more robust progression system but a more limp story. Also, KOTOR 2 was famously rushed to meet a holiday release in 2004 and as such had an overall "unfinished" feel as lot of content and ideas needed to be cut and this hurried development also led to more bugs than the first game. Over the years modders have worked hard to restore much of the cut content and fix many of the bugs, and in 2015 alongside the Mac and Linux release of KOTOR 2 Aspyr released a huge update to the PC version that allowed those mods to be used in the game in an official capacity through Steam Workshop, somewhat restoring the original vision for the game.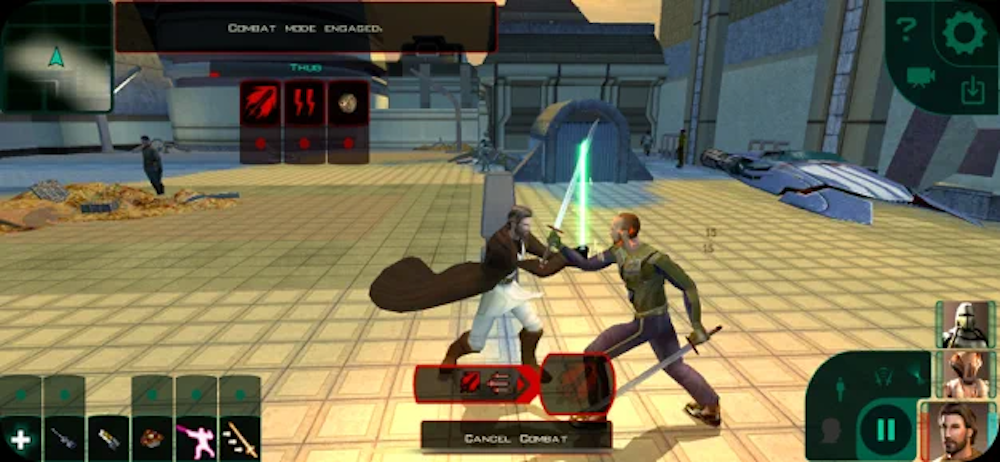 It's not clear if the mobile release will include that cut content at the time of this writing, but even with warts and all KOTOR 2 is an amazing experience that I will be thrilled to experience again on my iPhone, even if it's the vanilla release. And if you do prefer the original KOTOR, Aspyr updated the iOS version just last year with full screen support and some other nice new features, so come December 18th it will be fully possible to play through both on your mobile devices and argue with yourself until the end of time which one you think is the better game. I can't wait!