Just last week the folks over at GameClub introduced one of the most defining RPGs of the mobile era to their library when the resurrected Crescent Moon's classic Aralon: Sword and Shadow. It was such a good feeling to redownload the updated version of Aralon and fire it up again for the first time in a very long time, and because it had been so long I couldn't tell if it was just my imagination or if somehow the developers at GameClub were able to improve the graphics in the game, because to my eyes it sure seemed like a much richer and more detailed game world than it did the last time I played it. Well GameClub reached out to confirm that they indeed did provide some enhancements to Aralon. As I mentioned last week, one of my favorite things about Aralon is how it originally began as an ambitious project from two-person studio Galoobeth Games, who were experts at coding a robust RPG engine for mobile but weren't so great at creating art. Crescent Moon stepped in to help them do an "Extreme RPG Makeover" on Aralon, which we documented in perhaps two of my favorite stories we've ever posted on TouchArcade.
First was a before and after showing screenshots from both versions, and next was a before and after showing the old and the new trailers. Both stories showed a downright shocking transformation from something that probably would have been passable in the early era of 3D gaming to something that looked unmatched on mobile devices at the time. Well, since I am such a sucker for those before and after transformations, our old friend Eli Hodapp over at GameClub actually tracked down the same locations from Aralon that our original before and after screenshots were taken from ten years ago, and snapped a shot from the newly-updated version of the game for comparison. Now a decade later and I am once again entirely shocked by the transformation from what the release version of Aralon was like compared to the new GameClub-powered version. In the screens below, you can see the screens from Galoobeth's original version on the left, Crescent Moon's Extreme Makeover version on the right, and GameClub's new and improved version below those.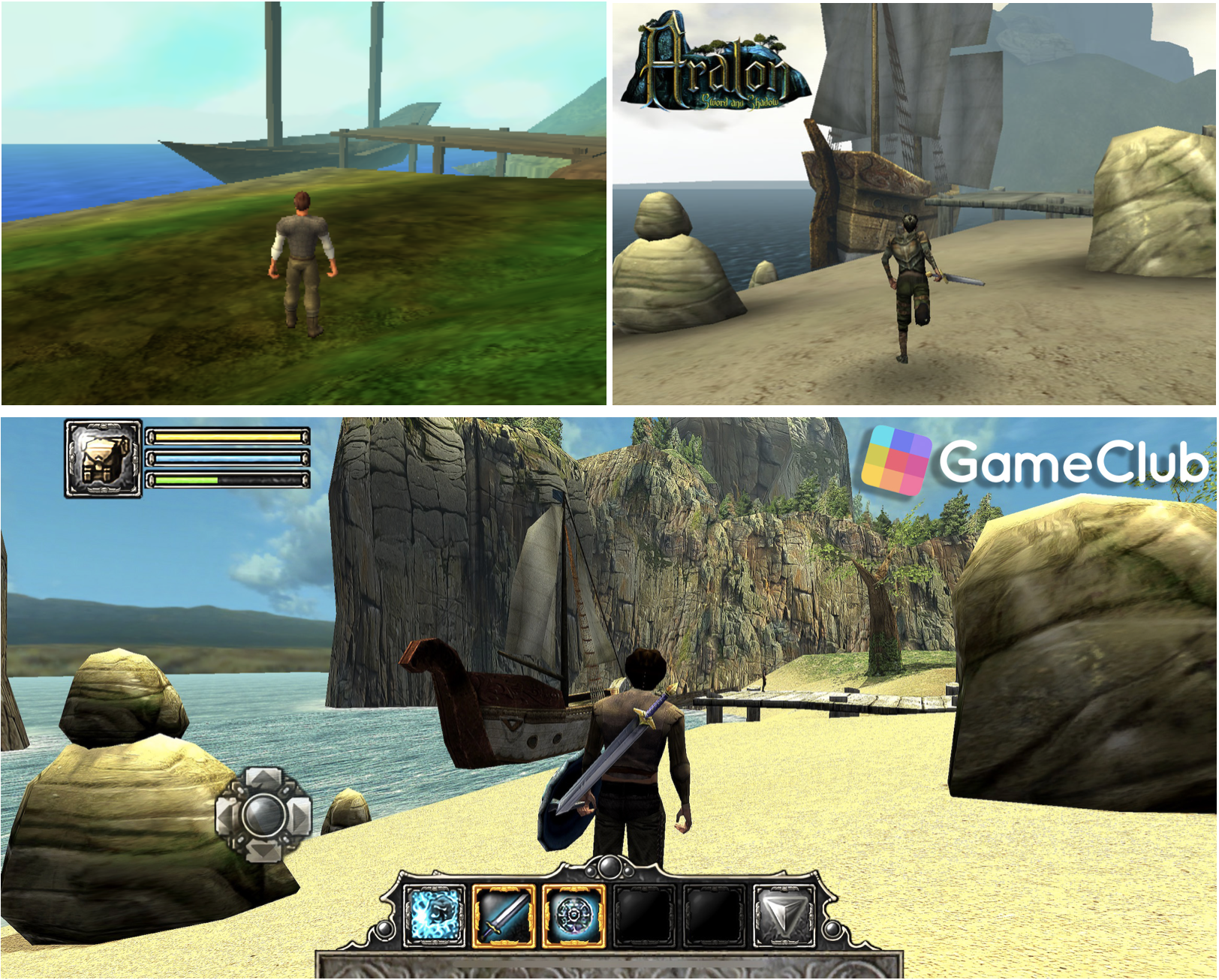 ---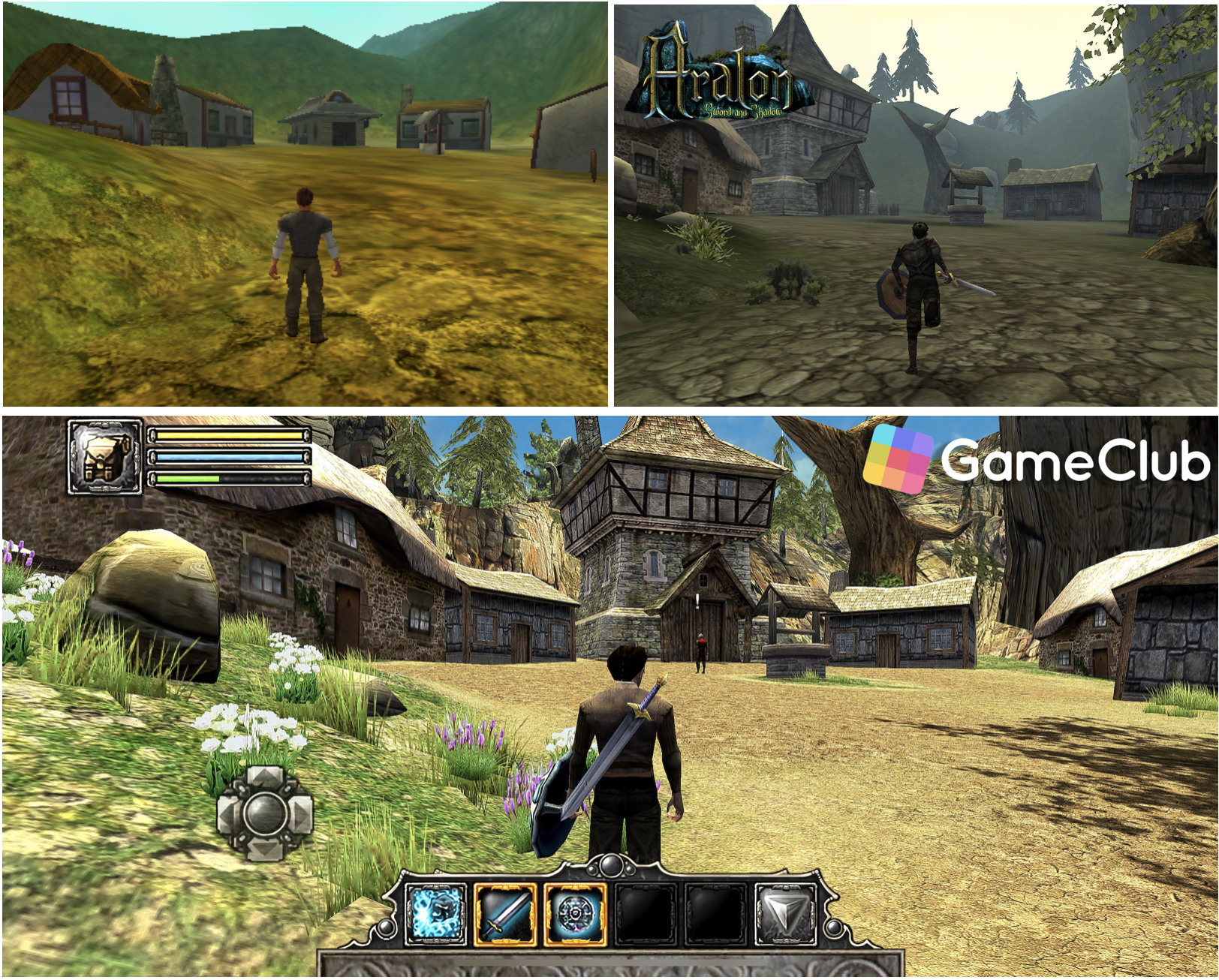 ---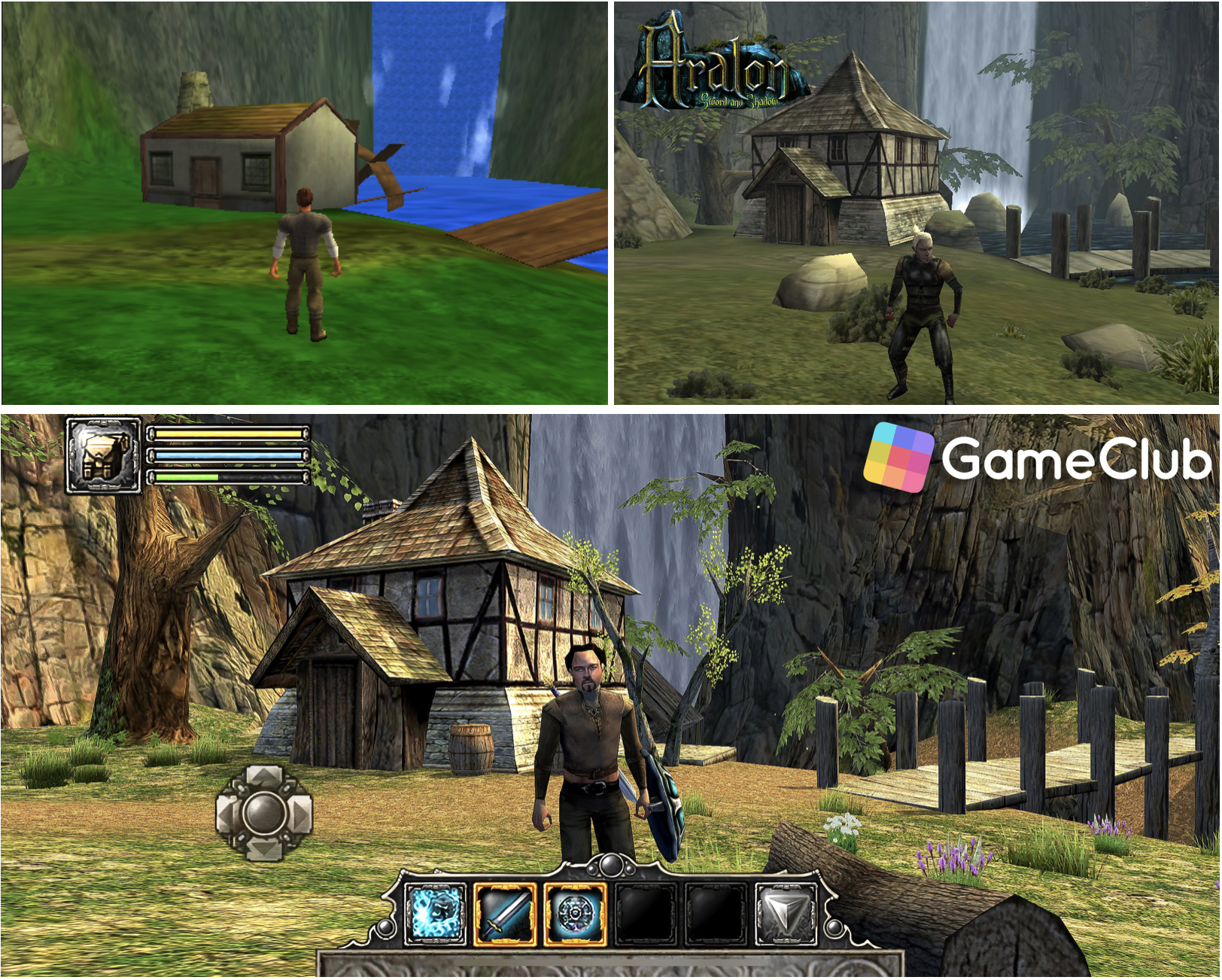 Pretty dang impressive, no? The crazy part is that, according to GameClub, they didn't even do all that much themselves to increase the visual fidelity of Aralon. The game was already like that when it was first created, but had to be toned down in order to work on even the latest devices circa 2010. And even in subsequent years Apple's penchant for not providing enough RAM in their devices made it difficult to increase things like resolution or draw distance in games like Aralon. That's not really a concern in 2020 though, and those screenshots above are what you get when you can simply slide every graphical slider to "Max" and today's iOS devices can handle it just fine. Personally, although the game does seem much sharper and more vibrant overall, it's really that increased draw distance that makes the biggest impact for me, as now the world of Aralon truly does feel like the expansive land that it is.
As we've mentioned before if you owned Aralon: Sword and Shadow previously you'll be able to update to this gorgeous new version for free whether you're a GameClub subscriber or not. Though it's really worth considering subscribing given how many incredible games are now in their library, which grows by the week, and how much work they put into bringing those classics back from the dead. If you're not a subscriber or a previous owner, you can still check out a limited version of Aralon (or any GameClub game for that matter) for free to see if it's something you'd be into, and a really great place to become familiar with what they have to offer is by downloading the free GameClub portal app. Also, if you're just interested in learning more about Aralon: Sword and Shadow, be sure to check out our original review from 2010 and Shaun's in-depth RPG Reload retrospective from 2015.