When Stardew Valley ($4.99) was announced for mobile, I was very excited. I already loved the game and had played it for a while across PS4, PC, and Nintendo Switch with the Switch version getting the maximum playtime of the lot. When it arrived on iOS, it was a fantastic port that has only improved over time. As with most indie games, the Nintendo Switch and mobile versions are on the spectrum for portable gaming fans. I already compared Dead Cells on iOS and Nintendo Switch and decided to do something similar for Stardew Valley since a lot of us play it on both iOS and Nintendo Switch. The screenshot below is the iPad Air 2 version zoomed out all the way.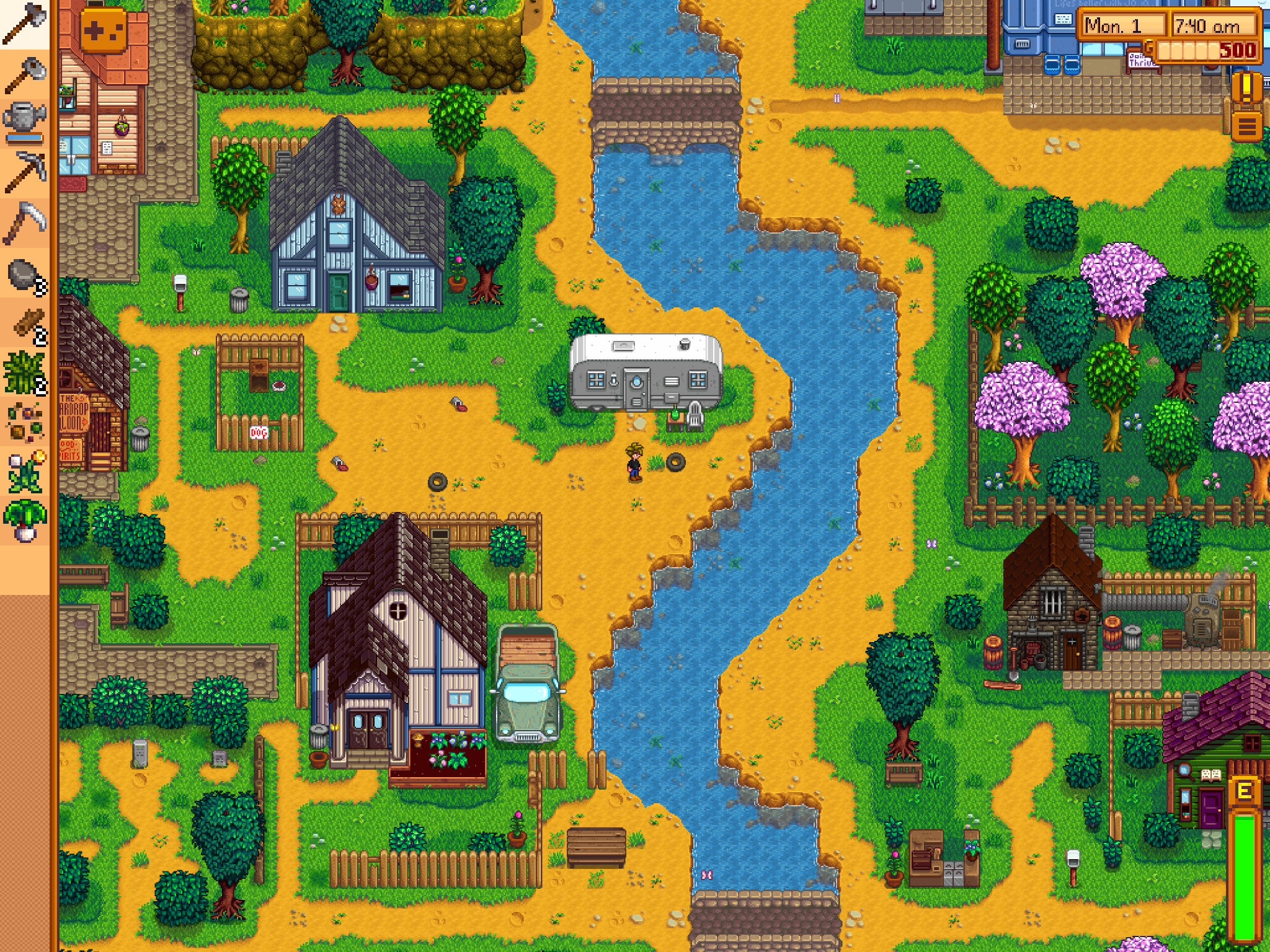 Over the last few years, Stardew Valley has evolved quite a bit on all platforms. There have been major updates adding new content across the board and also updates to the console versions adding multiplayer and mobile versions adding more control options. In its current state, Stardew Valley is in a great place on all platforms but there are a few things that make it worth looking into specifically on Switch or iOS depending on what you want out of the game.
When it comes to features, multiplayer is available on Nintendo Switch but not on iOS. As of now, there hasn't been any news on multiplayer for iOS or Android. In terms of content, the 1.4 content is already on all platforms including mobile. While patches arrive later on mobile compared to PC and other consoles, the difference isn't too bad. So in terms of core content, iOS is just missing the multiplayer. On the other hand, iOS has something that Switch doesn't have which might be a dealbreaker for you. You can sync your PC save to iOS. This feature requires both iOS and PC to be updated for saves to be compatible. Having the ability to transfer progress between PC and iOS is a huge deal.
Stardew Valley runs great across the board and it looks very nice regardless of playing docked, handheld, or on any mobile device. Having tested this out on iPad Air 2, iPhone 11, iPhone 7 Plus, and Nintendo Switch, the game is a joy everywhere. Having multiple control options is definitely a plus for the mobile version. I used the tap to move or interact scheme on iPad while I used virtual controls on iPhone. The iOS version is definitely more flexible when it comes to control options but Switch is likely more convenient if you just want to pickup and play with traditional button controls.
When it comes to performance, Stardew Valley runs brilliantly on both Switch and iOS. I noticed a bit of hitching on Switch that wasn't on the iPhone 11 or iPhone 7 Plus. iPad Air 2 had a bit of hitching though. These are minor problems overall and performance is great overall regardless of platform. One area I noticed the iOS version excel is load times. It is much quicker to just load up the game and get into your save file on iOS compared to Switch.
It is disappointing that the Switch version has no touchscreen support at all. It would be very useful to be able to access the journal or even navigate the UI with touch when in handheld. I've noticed this in a lot of games on Switch that are also on other platforms. Some ports like Risk of Rain 2 or even Dandara have touchscreen support but Stardew Valley lacks it.
Stardew Valley isn't an expensive game. Even at full price which is $14.99 on Switch, it is more than worth it. Mobile offers almost everything the Switch version offers in terms of content for little over half the price at $7.99. So far, all content has been free and I don't think that will change. ConcernedApe has brought in so much for free that it almost feels like there should be some other way to support the game and developer more.
Overall, Stardew Valley is much closer on iOS and Nintendo Switch than say Dead Cells. For a lot of people who own both systems, the Switch version being out earlier and getting content updates earlier ensures that it will be the better way to play. For those who care about price, want more flexibility in controls, and a way to sync saves between PC and a portable platform , iOS is definitely the way to go. In an ideal world, we would be able to sync our saves on iOS and Nintendo Switch. If that happens, I'd just tell you to get both if you can. Until then, hopefully this guide helps you decide which version of Stardew Valley you should buy.