While the developer has only been around for a few days, GameClub is already shaping up to provide the first legitimate solution to the persistent legacy issue within the iOS gaming community. Seeing Hook Champ, one of TouchArcade's most treasured early classics, become playable again on modern devices is something that I'm sure none of us would have even considered a possibility a few weeks ago, and an absolute delight to revisit. Whilst acknowledging my rosiest of rose-tinted nostalgia glasses, playing these early iOS games gives me the same feeling as replaying the likes of Super Mario World, in that each title is just pure fun to complete with none of the complications of modern gaming conventions. Without wanting to sound too greedy, the big question raised from our community is 'what next?' – and thankfully we don't have to wait too long to find out. Today, GameClub announced that the next retro revival will be the stone-cold roguelike classic Sword of Fargoal, and will be available for early access next week.
Of all the titles to fall at the hands of Apple's 32-Bit Appocalypse, Sword of Fargoal is probably one of the oldest. Originally launching in 1982 on the Commodore 64, Jeff McCord's cult hit was resurrected with the help of prolific mobile developer Madgarden in 2009. Through a complete overhaul of the graphics and a substantial amount of new content, Sword of Fargoal on iOS was a huge critical success, appealing to both old fans whilst being completely accessible for casual gamers or those with no exposure to the roguelike genre. I was firmly in the latter camp – before mobile gaming, it was basically $40 console releases or nothing, and as it was unlikely that a classic retro dungeon crawler would ever become available on the likes of the GameCube (or dislodge seven-year-old me from Kirby Air Ride), I had absolutely no idea what Sword of Fargoal would have in store for me. I'm so glad that I gave the game a chance though, and it's awesome to see GameClub resurrect one of the more niche titles in iOS's storied past. For those who can't wait to sign up for the early access preview next week, I'd definitely recommend reading Shaun's fantastic RPG Reload overview on Sword of Fargoal for a comprehensive understanding of what the game has in offer.
Sword of Fargoal by @fargoal was one of the first randomized dungeon games when it was released in 1982. 2009's iOS remake, made with the help of @madgarden, is the best version yet.

We're bringing it back. Sign up at https://t.co/xa26bCYO0b to be the first to play it next week. pic.twitter.com/IqC26ibbyl

— GameClub (@GameClub) March 13, 2019
The two biggest things I'm taking from this news is that GameClub are well aware of the mobile titles that are beloved amongst the iOS community, but also that no relic is too lost or dated to make a comeback. Sword of Fargoal was one that was particularly neglected in the last few years in terms of updates, but the developers have still managed to bring it back to life. Great job, lads – now just update Dungeon Raid for modern devices, and my spirit will finally be able to rest.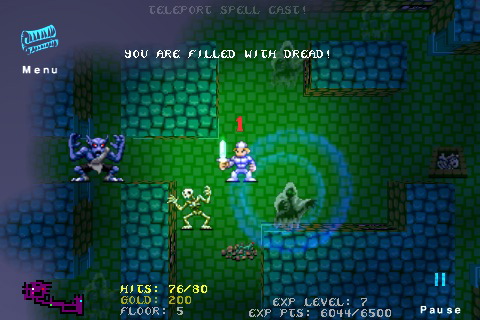 DISCLAIMER: As I'm sure readers will be well aware at this point, Eli Hodapp, the longstanding Editor-in-Chief of TouchArcade, recently stepped down from his role to join GameClub as their VP of Business Development. While he's still around in a freelance capacity to help out with the podcast, his full-time job is fully with the new iOS development studio, and so I just want to be as transparent as possible and re-emphasise how our coverage of GameClub is entirely due to its importance to our iOS community in bringing back some of the platform's most beloved titles. Also, while I'm here, a personal massive thank you to Eli for all the opportunities he gave me, and for making TouchArcade what it is today – we can be sure that GameClub will have a stellar line-up of titles in their arsenal with Eli at the helm. But seriously, Dungeon Raid when?