It seems like the unbelievable success of Hearthstone (Free) has created a swarm of new digital collectable card games from developers both eager to get a piece of that Hearthstone pie as well as offer something new or different in the genre. This year at PAX, three different digital CCG's competed with each other to be the king of the digital CCG at PAX 17.
First up was Eternal (Free) by Dire Wolf Digital. What stood out to me with Eternal is they allow for 75 card decks, which as far as I know is the biggest deck size available in any of the big free to play CCG's. When people complain about Hearthstone, among the top beefs are usually a lack of overall complexity compared to other games, which Eternal seems to have loads of between all sorts of different card types, effects, and more.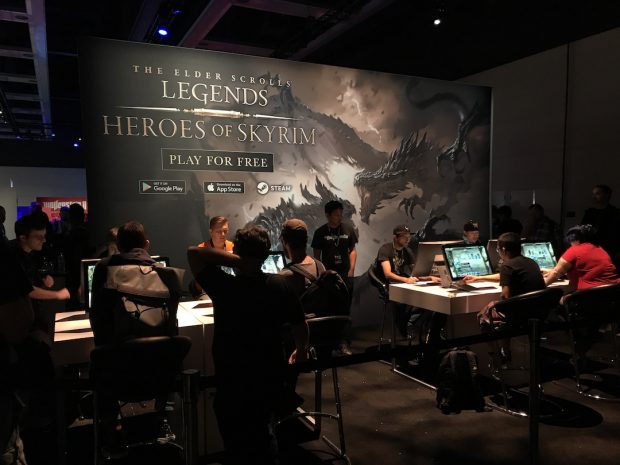 Bethesda always has a massive presence at PAX, and this year is no different. The Elder Scrolls Legends (Free) had a huge setup with a bunch of demo stations to get people to try the game. We've posted quite a bit about Elder Scrolls, so if you've missed any of that, check out our review. An interesting wrinkle of all of this is that The Elder Scrolls: Legends is actually developed by Dire Wolf Digital as well, which makes playing Eternal a little more interesting as you can see some of the links between both games when you play them side by side.
Last, but not least is Shadowverse (Free), a CCG by Cygames that we'd actually never heard of before. The amount of money they've thrown at the event is sort of remarkable, with full branding all over every bathroom I used at the event, full building-sized billboards outside, and they even took over a good chunk of the Twitch booth for their game demo. Of all the sponsorship, the Twitch takeover was probably the most effective, as playing Shadowverse was one of the ways you could get a Twitch pin. I'm not even as interested in the game as I am finding out whether or not this all-out advertising blitz was worthwhile for them or not. This level of sponsorship could not have been cheap.