One of the best parts of the TouchArcade community is seeing developers reach out to fans and getting their input on upcoming games, whether that's through traditional means such as videos, or more hands-on methods like having their creation available to beta test. An approach like this almost always pays dividends for the developer, as the helpful advice of forumgoers helps enhance and prepare the game for launch, and beyond. Disco Dave is one such title, and as a result of over 130 beta testers (the majority coming from our forums), and a brief soft launch period, this groovy arcade high-score chaser is going to have absolutely on point dance moves when it launches worldwide on September 8th.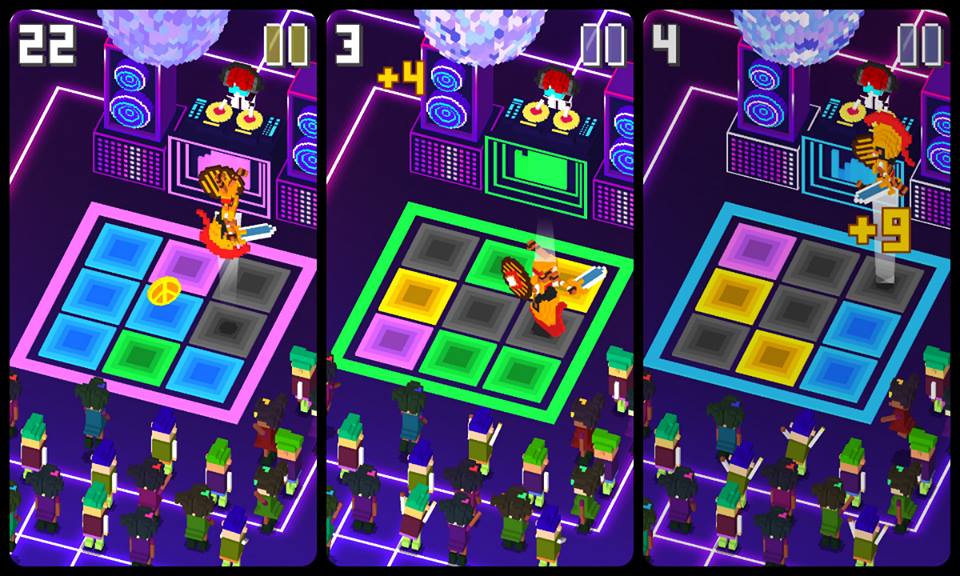 For anyone who may have missed our previous coverage of Disco Dave, you are tasked with controlling an eccentric, eye-catching and afro wielding dance machine named Dave (as well as a cast of different crazy characters) as he spins around the disco floor. Colored tiles have to be landed on to keep up the streak, whilst grey ones must be avoided at all costs, or Dave's groovy vibe is ruined forever, and this is done by carefully calculated swipes of the touch screen. Furthermore, Dave cannot land on the same color twice, presumably because Dave definitely isn't a one-trick pony, and so extra precision must be used while dancing around the arena. With some vibrant voxel graphics, coupled with funky 80s music, Disco Dave looks like an appealing time-waster for any high-score fanatics who want to try something new, as you can clearly see in the newly released launch trailer:
Best of all, developers Amused Sloth have taken the feedback of fans seriously, and promise an improved Disco Dave experience from the beta and soft launch iterations. The controls have been optimised, tutorials tweaked, and fixes made to prevent the constant color-changing camaraderie from becoming too dazzling, all of which will help streamline the fervent flips of your character. If Disco Dave has caught your attention, keep your eye on the App Store on September 8th for a global launch, and follow our forum thread for further details.