In the fall of 2010, EA revived the legendary NBA Jam franchise in what was originally planned to be a bonus game included with the purchase of their basketball sim NBA Elite 11 on consoles. A rebooting of the well-known and long-running NBA Live franchise, NBA Elite 11 was plagued with development problems and eventually cancelled prior to release. Thankfully, EA decided to release the rebooted NBA Jam in October of 2010 as a standalone digital download on consoles, and in February of the following year that game made its way to iOS devices. And let me tell you, NBA Jam ($4.99) was glorious on the iPhone.
Its arcade nature worked incredibly well on a mobile device, and it used an ingenious 3-button control system that kept things simple and clean but still allowed for more complex moves. It was my favorite freaking iPhone game, and EA did a good job with updating the game throughout 2011 with things like updated rosters, performance improvements, and the oft-requested multiplayer mode (local over Bluetooth or Wi-Fi, not online, but a welcome addition nonetheless). Then, for reasons unknown, EA simply stopped updating NBA Jam, despite the fact that it was incredibly popular and consistently hung around the top of the charts since it was first released.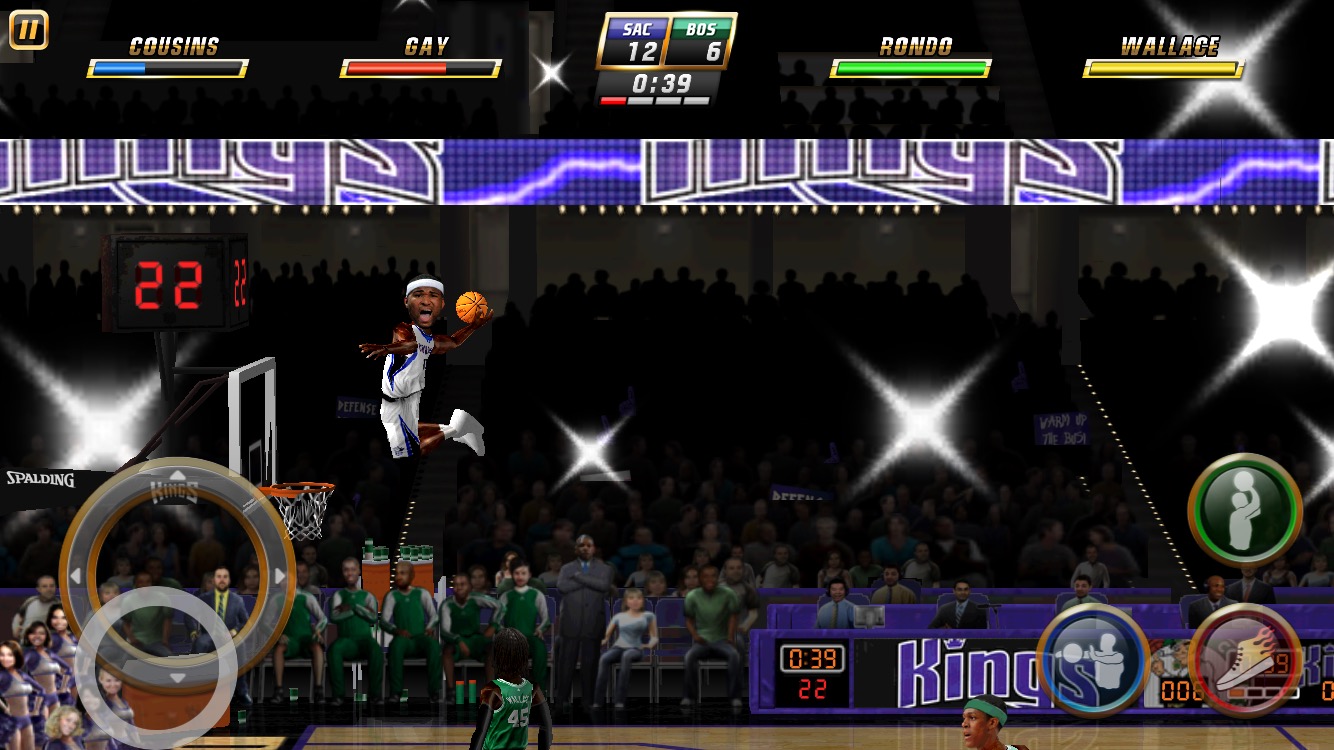 This wouldn't normally be a problem; I mean hey, I can live with outdated rosters. But around the time of the iPhone 5 and iOS 6's arrival in the latter portion of 2012, NBA Jam was starting to show its age. The new version of iOS caused the game to lag, not to a huge degree but enough for a frequent player to notice and be annoyed by. It also, like many other apps at the time, didn't support the new 4-inch screen of the iPhone 5. Those damn black borders! I figured with the popularity of NBA Jam it was just a matter of time before EA fixed up its issues.
Well, technically it was just a matter of time, even if that matter of time was more than 3 years, as EA has finally dropped a new update for NBA Jam on iPhone and iPad. The new update includes updated rosters (there's a couple of players on out-of-date teams but it's vastly improved compared to the previous mid-2011 rosters), widescreen support, iPhone 6 resolution support, and a noticeably smoother performance. I made sure to play the old version a bunch just prior to updating, and with how crisp and smooth the game is now it feels like night and day compared to the old version. Here's some comparison screens.
I have to say, this recent update has totally reinvigorated my love for NBA Jam. Around TouchArcade, NBA Jam had sort of become a running joke whenever we needed to reference an old game that badly needed an update but was basically (seemingly) abandoned by its developer. So, good on you EA for finally making one of your most popular games feel like it belongs in modern times again. If you're in the same boat I was and loved NBA Jam on iOS but had given up hope, be sure to download the updated version. And if you missed NBA Jam on the iPhone or iPad before, I can confidently say it comes highly recommended now with this new update.