It has turned out to be a pretty darn busy night of new game releases, as I'm literally finishing up this list as all these games are arriving in the US App Store. They just kept on coming. Besides the big-name titles like Age of Sparta from Gameloft, Heavenstrike Rivals from Square Enix, and Overkill 3 from Craneballs, there are a ton of more low-profile but promising looking games out tonight. A duo of games from Butterscotch Shenanigans with Flop Rocket and Roid Rage, an interesting prison simulator called Prison Life RPG, an extreme version of soccer called Striker Arena, a passion project RPG called Echo Dawn which actually looks quite excellent, and a trio of games with punctuation in their titles: Okay?, Ones!, and Mayhem! Oh, and be sure to catch the trailer for Symmetrica which is awesome, and the game itself looks great too. So put on your perusing hat, carefully look over the list of games below, and let us know which ones you're interested in picking up.
---
Age of Sparta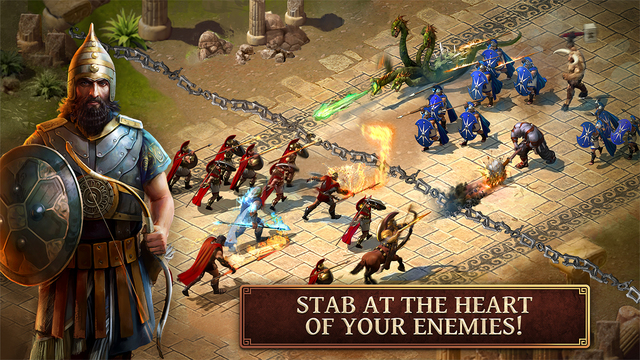 iTunes Description
Unite the powers of men and gods to protect Ancient Greece from Xerxes' invasion!

Join a compelling strategy game with a unique and intense combat system and thousands of players for you to ally with… or conquer. This isn't just a war, THIS… IS… AGE OF SPARTA!
Forum Thread: Age of Sparta (by Gameloft)
---
Atomas
iTunes Description
Atomas is a fascinating puzzle game, which you can learn in seconds but will entertain you for weeks. The perfect game for your spare time! Your little universe starts with hydrogen atoms only but with the help of the energy rich plus atoms you are able to fusion two hydrogen atoms into one helium atom, 2 helium atoms into one lithium atom and so on. Your primary goal is to create the valuable elements like Gold, Platinum and Silver.

But watch out, if your universe is overfilled with to many atoms it will cause a big crunch and the game is over. One way to prevent this is to build up long symmetries in your atoms and start big chain reactions.
Forum Thread: Atomas (by Max Gittel)
---
BeatDefense
iTunes Description
Missiles are falling on our city and someone must stop them! Use the power of loud, catchy music to destroy them and save the city!
Features:
* Beautiful pseudo-retro graphics (old-school sprites with new-school lighting and day-night cycle)
* Catchy music by the best Creative Commons artists
* Particles everywhere
* Too much groove
* Six levels that range from easy to totally unfair
Forum Thread: BeatDefense (by 16 Escalones Producciones)
---
Creature Chaos: The Dragon Lords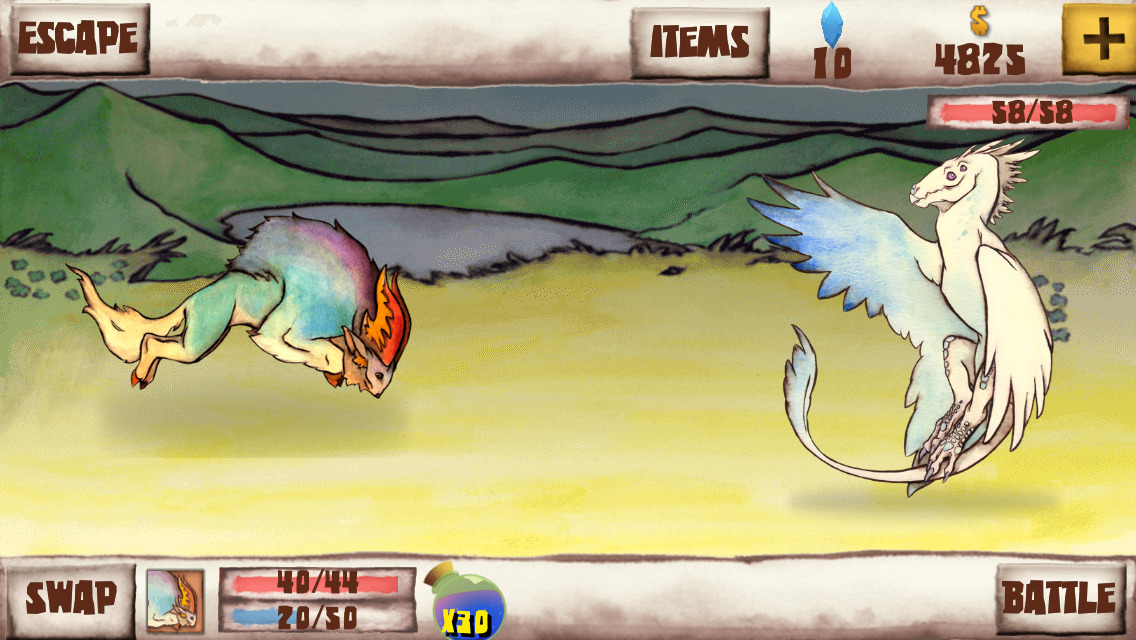 iTunes Description
Explore a world full of unique creatures. Capture, raise and battle them to discover all the world has to offer. Every Creature is unique and how you raise them directly effects what creature they evolve into.
Features
– Collect over 110 unique Creatures.
– Evolution chains with multiple branches.
– Participate in events where you can collect rare and exclusive creatures.
– Hours of gameplay
– Beautiful hand drawn world and Creatures
Forum Thread: Creature Chaos: The Dragon Lords (by Ernesto Hernandez)
---
Deeply Absurd Chain
iTunes Description
This is clever, relaxing puzzle that will keep you playing for a few hours in a row. While it may look similar to many match-3, connect-3 puzzles – it is different! Connecting items/creatures of the same type allows you to discover the next link of the chain:

Regular stone -> Warm-blooded stone -> Not very clever life form -> Stupidly cute young creature -> … Can you discover the entire chain?

Rules are simple: connect, discover and upgrade.
Forum Thread: Deeply Absurd Chain (by Illya Sikeryn)
---
Echo Dawn: Shattered Visions
iTunes Description
Unveil the world of Echo Dawn, a classic console-style RPG where discovery, strategy and challenge are at your fingertips. Fully customize your party, stats, and difficulty level. Oh and in the process you'll save the world and be a hero of LEGENDARY proportions. Ninja included!

Features:
-Deep, tactical gameplay
-With hundreds of abilities and items, you choose what works best for your party.
-Each level, you decide 3 of the 6 stats you want to improve for each character.
-Play defensively with heavy armor equipment and place your characters in the back row.
-Or you can decide to be aggressive and dual wield with your characters in the front row for maximum damage.
Forum Thread: Echo Dawn: Shattered Visions (by PixeLight Games)
---
The Empty
iTunes Description
The Empty….

Nobody can be on an object that was created to be empty

Why are you determined to stay in the empty?…They will not let you stay there for long…

You will not be able to resist playing The Empty, again, and again, and again you will want to stay in the empty objects. Will you manage to do it?
Forum Thread: The Empty (by Magic Frame Studios)
---
Eyeser
iTunes Description
Eyeser™ is a brilliant puzzle game that will have you thinking in ways that you never had before.

Imagine that everything around you becomes invisible and there are 2 laser eyes will help you to see the object as single line. Imagine too that the line of laser scanning moved rapidly over the object, displaying tiny slices of the thing as it did so. Do you think you could guess what was showing on Eyeser™ just by viewing this one line?
Forum Thread: Eyeser (by Pine Entertainment)
---
Fisk
iTunes Description
There is always a bigger Fish than you!

Fisk is a puzzle game based on a 2048 mechanics. Incarnate a red fish who tries to survive by swallowing smaller fish than him! But be careful, big fish are waiting for you, ready to eat you as well. Be Smart and try to swell bite after bite to be able to eat them all!!
Solve more than 200 levels and become the biggest one at the end.
Forum Thread: Fisk (by Bulkypix)
---
Flop Rocket
iTunes Description
Pilot your Flop Rocket through a 5 kilometer cave filled with dragon-like Spaceducks, enormous rock-worms, and other space-time anomalies as you try to prevent an underfunded space program from going bust. Why is your space program housed in a cave? GOOD QUESTION.
Forum Thread: Flop Rocket (by Butterscotch Shenanigans)
---
Heavenstrike Rivals
iTunes Description
Battle other players online in this EPIC Tactical Card Game (TCG)!

Enter a war-torn world on the brink of extinction, embark on an epic adventure and fight your way to the top of the PvP leaderboards in HEAVENSTRIKE RIVALS.

The once-prosperous aerial kingdom of Lunnain lies in tatters, assaulted from above by the Fallen – ruthless monsters of nightmare who seek only complete destruction. But the people will not take their fate lying down, and their strike back at the heavens starts now!
Forum Thread: HEAVENSTRIKE RIVALS – (by SQUARE ENIX INC)
---
Hell: Fight for Gilrand
iTunes Description
Hell is a turn-based tactical skirmish strategy game developed by award winning developer Hunted Cow in partnership with Slitherine.

Set in the mythical fantasy land of Gilrand, you take control of either the 'Order of Radiance' or the 'Demons of Hell' and battle for supremacy across many different battlefields and environments. The game features stunning visuals and is aimed at both PC and iOS release with cross platform multiplayer functionality. Each unit has been carefully designed to have a specific role in the battle, with various strengths and weaknesses determined from an array of unique abilities and traits.

With an epic single player campaign traversing 20 unique levels, do you have what it takes to vanquish the forces of 'Hell'?
Forum Thread: Hell: Fight for Gilrand (by Slitherine)
---
Hell Marys
iTunes Description
Only you can save the universe! Band together with Peacekeepers across the globe and use your clan of lusty ladies to crush the enemy in this unique card battle game.

Hell Marys brings a melt-your-face element to the realm of card battle games with its intuitive flick-based combat system. In Hell Marys you'll recruit gorgeous, powerful women and beastly men to fight for their universe against the corrupt elemental gods. As you battle through the dark fractured universe, you must upgrade and evolve these poster-worthy vixens and brutish men to strengthen your squad and continue to deal head-banging blows to the enemy. Use the elements against the corrupt gods and fight back with Earth, Fire, Ice and Metal.

So, grab your meanest weapons, recruit the baddest broads, and rage into the cosmos for the battle of the millennia!
Forum Thread: Hell Marys (by CriticalHit)
---
The Hopping Dead
iTunes Description
Something horrific has been unleashed and it's turning its victims into something far more heinous than your run of the mill zombies. Lock your doors, board up your windows and brace yourself for a new kind of evil… The Hopping Dead!

The mechanics are simple: pick from six different characters and hop your way through four unique levels by tapping on the left side for a small hop and on the right side for a large hop, killing zombies as you go. The unique simple controls allow for a fun yet challenging gameplay experience.
Forum Thread: The Hopping Dead (by Rondo Rocket)
---
Infinite Cosmos
iTunes Description
Years of intergalactic struggle, planetary annihilation and constant privateering have left space a ghastly mess. It is your destiny to pilot the "Photon" through an array of space junk, left over planet debris and all sorts of wonders from the intergalactic fun, of which you will not be a part.

Good luck out there – I hear there are many other pilots looking to find the odd bit of hidden loot to upgrade their measly ships.
Forum Thread: Infinite Cosmos (by Absinthe Games)
---
Jelly Jump
iTunes Description
Little jellies need you more than ever before! They keep drowning over and over again. Only you can keep them safe…

Jump higher, survive longer and never give up!

Collect little jelly blobs and craft new jellies out of them. Challenge your friends in this ambitious game!
Forum Thread: Jelly Jump (by Ketchapp)
---
Joe Dever's Lone Wolf Complete
iTunes Description
The Complete edition includes all the 4 Acts of the story in a single app!

Lone Wolf is back, as a video game series with a brand-new story, a new combat system, stunning graphics and much more! Make meaningful choices and carve your own path through this epic non-linear story. Test your strength with the dynamic turn-based combat system, prove your skill with the lock-picking minigame and accept the challenge of wits posed by the mysterious Shianti Cube!

The author Joe Dever has been working with the studio, involving himself in the story writing so it fits with the original continuity, while also shedding a new light on the fabled world of Magnamund.
For Sommerlund and the Kai!
Forum Thread: Joe Dever's Lone Wolf Complete (by Bulkypix)
---
Kyubu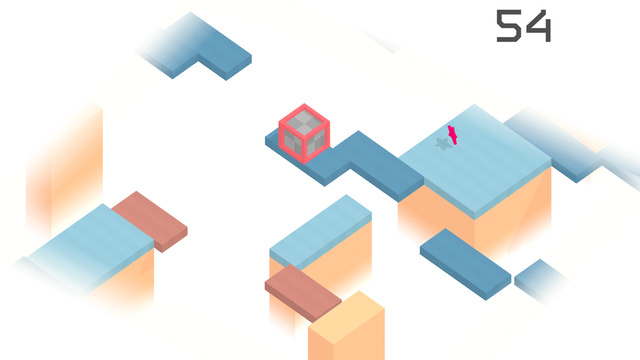 iTunes Description
Kyubu is a very simple and addictive game. Use one tap to turn the cube.

You must go as far you can. Collect the stars to score more points.

Good luck! 🙂
Forum Thread: Kyubu (by Aurea Games)
---
LikWit: The Liquid Puzzle
iTunes Description
Download LikWit now and start flowing through the coral reefs in the first FREE liquid puzzle game!

Beat the colored mutants, bombs, teleports, barriers and tar obstacles to flood your phone or tablet! Slide and absorb colored drops and get ready for this fluid adventure! Be liquid, my friend!

Play. Flow. Relax.
Forum Thread: LikWit: The Liquid Puzzle (by HeYou Games)
---
Magic Touch – Wizard for Hire
iTunes Description
Wanted,
Wizard required for defence duties. Must be proficient in spell casting to pop varying balloon types that may be utilised by intruders. Must be confident working alone and comfortable facing aggressive hordes.

Advanced magic techniques desirable but can be learnt on the job. Applicant expected to provide their own spell book and potion bottles. They also may be required to make tea and answer phone calls.

Applicants should send CVs and potions portfolio to [email protected]
Forum Thread: Magic Touch: Wizard for Hire (by Nitrome)
---
Mate..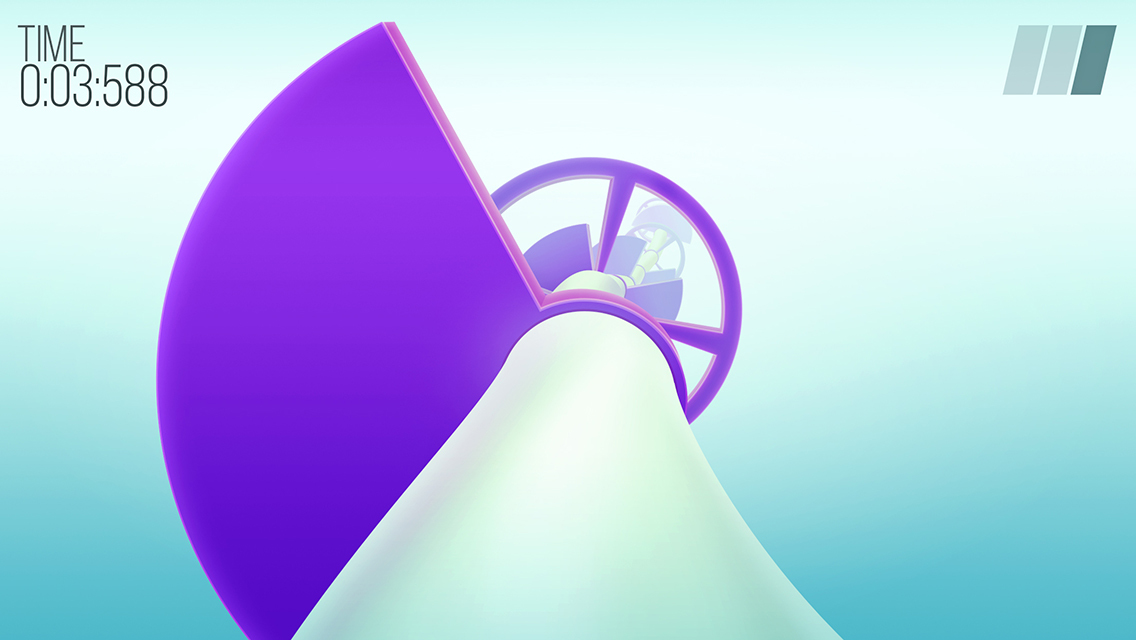 iTunes Description
Experience visual bliss that will take your emotions to multiple states, from joy to frustration within a split second.

A hypnotic avoidance game where your reaction and reflex skills will be tested to the limit. Avoid sequences of rotating obstacles while experiencing stunningly beautiful scenarios and gameplay. A total thrill and rush of multiple energies at once.

Can you handle it MATE?

Minimalistic touch controls, pick up and play instantly. How far can you go? Let's do this!
Forum Thread: MATE.. (by Noxus)
---
Mayhem!
iTunes Description
MAYHEM! is the frantic, frenzied 2D arcade game.

Dodge lasers, sidestep mines and collect cash pickups in the Global Smash Hit Game Show: MAYHEM!

Can you beat the clock to conquer all Zones, become the ultimate contestant, unlock Endless Mode and top the leaderboard?

Warning: As with all the best arcade games, some players might find MAYHEM! EXTREMELY DIFFICULT!
Forum Thread: MAYHEM! – 2D Arcade Game (by James Bolton)
---
Medieval Wars: Strategy & Tactics Deluxe
iTunes Description
The history of medieval Europe is rich in bloody wars and conflicts. The Norman invasion, the Crusades, the Hundred Years' War, the Reconquista, the Wars of the Roses, the Albigensian Crusade and endless peasant riots… A new game in the Strategy & Tactics series gives you an opportunity to try your strength in confrontations between the most ruthless conquerors.

In Medieval Wars: Strategy & Tactics you are to lead the armies of England and France as well as the armies of crusaders in three campaigns and try to win the biggest wars and battles of European medieval history. Scenario maps will let you take part in Russian feuds, stop the Saracens under the flag of Charles the Great and lead The Hussites.
Forum Thread: Medieval Wars: Strategy & Tactics Deluxe (by HeroCraft Ltd.)
---
Okay?
iTunes Description
Clear the board. Pay what you want. Okay?
Forum Thread: Okay? (by Philipp Stollenmayer)
---
Ones!
iTunes Description
To celebrate the release of the game, 66% off for limited time!
Play the best puzzle game, "Ones!"

"One more game!" All player say this word as the first word after playing the game.
A very simple rule, but once you start the game, it's hard to stop.
You will be addicted to play this game before you know it.
Forum Thread: Ones! (by Magic Cube)
---
Overkill 3
iTunes Description
Welcome to the future. It's grim and dark. The ever oppressing Faction wants everyone to follow and obey. They will stop at nothing. People are scared. Demoralized. The few who fight back are painfully outnumbered.

They need hope. Someone to show them the way. Will you stand up for humanity and fight for its future?

Step into the action of the audio-visual spectacle that is Overkill 3. Lead the Resistance into victory over the evil Faction forces and their brutal killing machines.
Forum Thread: Overkill 3 (by Craneball Studios)
---
Pavel Quest
iTunes Description
Pavel Quest is a puzzle platformer requiring split second execution and problem solving skills. Pavel is a hero who has been captured by the diabolical mastermind Lukas. Taken to Lukas's castle on his own private island, Pavel must make his way through the trap filled castle to regain his freedom.

Created by ElevenSeventy, a team of two game lovers, Pavel Quest is the first commercial product released by ElevenSeventy. Having worked on multiplayer shooters in other jobs we knew how hard it is get complicated games right with limited resources. So we opted to aim for a simple concept, and make it great. Over time we added features like gravity anomalies, bounce pads, fireballs, acid spouts, secret characters, and a replay system. All while preserving the balance of simplicity and difficulty. Pavel Quest is a hard game, but it is rewarding as well. When you beat a level, all of your deaths are shown in a replay along with your successful run.

Pavel Quest is a game aimed at players who love old school and retro platformers like Super Mario Bros, Sonic, and Super Meat Boy. With 30+ unique levels of scaling difficulty and a secret unlockable character; Pavel Quest will keep you playing long after you beat it.
Forum Thread: Pavel Quest (by Eric Schlichting)
---
Prison Life RPG
iTunes Description
Dear prisoners, this is Warden speaking. Welcome to the Prison, where you are SENTENCED to play! Can you survive the harsh prison life? Can you escape before your execution?

Prison Life is a Survival Role-Playing game that places you behind bars. To survive the punishment of the penitentiary system, you'll need to stay healthy and fit, gain allies, eliminate enemies, bribe the guards, bet in illegal boxing matches, and more while pushing for parole or planning an escape.

With more than 100 prisoners to interact with, you'll never feel bored! Watch TV, call your grandma, learn skills, craft items, get bullied, wash toilet, flirt with the pretty Doctor in Sick Bay, bribe the guards or just idle around! Make friends and join gangs to increase your defense, fighting, and, of course, escape power. Be careful though, prisoners your offended will beat you up or even kill you! There are many ways to break out of prison. You just need to collect the proper tools and talent to pull off the perfect plan!
Forum Thread: Prison Life RPG (by Nob Studio)
---
Rocket Joust
iTunes Description
Battle your friends for aerial supremacy in Rocket Joust! Jump in with up to 4 human or AI competitors on the one device, in a wild contest to knock each other from the sky. Play across multiple levels and modes, using a host of quirky characters, and show your friends who the best jouster is!
Forum Thread: Rocket Joust (by Dobsoft Studios)
---
Roid Rampage
iTunes Description
Collect precious Juice as you attempt to stay alive in an infinite asteroid field. Don't worry about the hordes of interns you kill in the process, those interns are unpaid! Plus, the Bureau of Science has all the super-fragile ships you could ever want!
Forum Thread: Roid Rampage (by Butterscotch Shenanigans)
---
Rotate – Zen Journey
iTunes Description
ROTATE – ZEN JOURNEY is a journey to an endless rotating world. Experience the state of "Anatta". Put on your headphones, relax and enter this abstract world of colors and shapes.

FEATURES:
-4 Rotating Worlds (红-RED,黄-YELLOW,青-GREEN,紫-PURPLE)
-80 Challenging Levels
-Original Musics
-Elegant Design
Forum Thread: Rotate – Zen Journey (by Zhipeng Wang)
---
Slashing Demons
iTunes Description
"Slashing Demons" is the untold story of an endless fight between human kind and divine forces. Hundreds years ago, human greed and selfishness triggered Gods' wrath who decided to send their monstrous beasts to destroy humanity. Entire armies failed to defend the Earth and you are the last hope for those who survived. Will you be brave enough to defy Gods' creatures and change mankind's destiny?

Draw your sword and show your courage by slashing gigantic monsters. But be careful and pay attention to their disgusting tongues because if they catch you, you'll be crushed to death, in a slow and horrible agony. You can also collect gems to unlock new warriors. Valiant knight, bloodthirsty berserker, pirates… choose your own style to face Gods' punishment.
Forum Thread: Slashing Demons (by Mathieu Akita)
---
Sopio
iTunes Description
The points and puns card game arrives on iOS! Play Sopio anywhere, even if you don't have any friends!

Get to 1000 points to win before your opponents!

Play cards on yourself! Play cards on them! Play cards on no-one and just enjoy the pictures!
Forum Thread: Sopio (by Lightwood Consultancy)
---
Star Drift
iTunes Description
Somewhere, in the depths of the void, a lone star-fighter prepares to make its final stand. Star Drift is an endless space gunner. It's super easy to pickup and play, just touch anywhere on screen to move up, release to drop down. Your weapons will take care of themselves.

Featuring:
* Beautiful, silky smooth graphics
* Procedurally generated gameplay
* Easy to play, mobile-friendly control scheme
* Soundtrack by renowned composer, David Wise
* Full Game Center integration
Forum Thread: Star Drift (by Squarehead Studios)
---
Striker Arena
iTunes Description
Join Vikings, Gladiators and Samurai to play the Soccer of the Gods! Striker Arena is a 3D tactical-action fantasy soccer game with warriors fighting in arenas. No rules! Even allows 2 people to play side-by-side on one device at the same time!

You control a Striker team from one of the old tribes. Your objective is to get the ball, pass it, and shoot it into the arena vortex. As you try to score, you will be able to move your players, intercept opponent passes, and swipe the screen to make passes and shots. Pick up special abilities on the field to tackle, punch and blast whoever gets in your way! Score as much goals as you can and the Emperor will send you to death or Striker's heaven. There are no fouls in the Soccer of the Gods, so unleash hell on the field!
Forum Thread: Striker Arena (by Wizcorp)
---
Sum Idea
iTunes Description
Swipe and swap your way through SUM IDEA's 100 challenges of mental dexterity.

Pit your mind against Professor Addkins by strategically switching tiles into the correct places in the limited number of moves available.

Every move counts as some tiles react when swapped – lowering, raising or transforming the action of other tiles.
Forum Thread: Sum Idea (by Twiddly)
---
Symmetrica
iTunes Description
Beautiful. Simple. Symmetrical.

In Symmetrica, you control two spaceships with a single tap in this unique game experience.

Fly through space as you narrowly avoid dangerous obstacles in this addictive and infinite cosmic adventure! Symmetrica is simple to pick up, with intuitive one-button gameplay, but don't get caught off guard; it's not easy to master!
Forum Thread: Symmetrica (by Lars Mollinger-Olson)
---
Tap Heroes – Idle RPG Action
iTunes Description
Embark on an epic journey through the lands to grow ever stronger and defeat your enemies. Tap your way through forests, deserts, caves, jungles, swamps and more as you grow ever more powerful and face tougher opponents and creatures. Defeat bosses to travel to new areas and recruit new heroes to join your adventure.

Your mighty warrior can attack enemies at a rapid speed and still stand to shield the group from harm. Your healing mage will use healing magic to heal your wounds. Your skilled rogue will shoot poisonous arrows that damage your enemies over time and slow arrows to hinder their advance.

Tap with your godly powers to hurt your enemies and heal your heroes. Or unleash your wrath on your enemies with awesome powers while blessing your heroes with helpful buffs. Spend the gold and other loot you gather on your journey to upgrade your heroes and gain new abilities to overcome the adventure ahead. Good luck!
Forum Thread: Tap Heroes – Idle RPG Action (by Daniel Hjelm)
---
Twist3d
iTunes Description
TWIST3D is an addictive puzzle game about making matches in 3D! Climb the leaderboard by spinning the cube, making matches and solving puzzles.

MATCH: Tap to destroy matches of 3.

SPIN: Spin the 3D cube to look for matches.

SOLVE PUZZLES: Make matches to smash the glass and solve puzzles.

Sounds easy enough, right?
Forum Thread: TWIST3D (by Chroma Studios)
---
Ultimate General: Gettysburg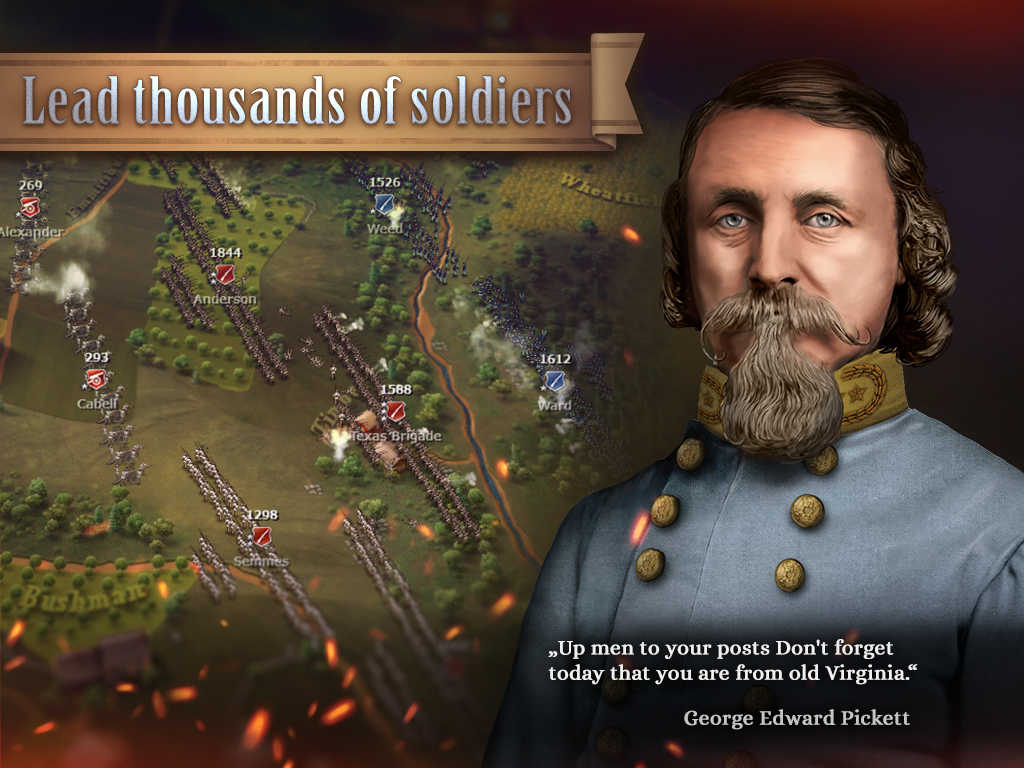 iTunes Description
A Tactical Wargame that allows you to command thousands of soldiers as a Union or Confederate General during the Battle of Gettysburg. The strategy game features unique hand drawn map, complex morale, innovative controls and smart AI.

Ultimate general: Gettysburg is a critically acclaimed indie wargame with one of the highest user ratings for strategy games on Steam and Metacritic.
Forum Thread: Ultimate General: Gettysburg (by Game Labs)
---
Under the Sun
iTunes Description
Waste no time! Guide a stranded castaway through a series of puzzling desert islands.

You must reach the campfire by nightfall. But with each step time moves forward and the world changes, making things difficult. Trees grow, bridges crumble, animals age, waters rise; everything gets in your way!

Luckily, time can be reversed if you make a mistake. Take as much time as you need to solve this sailor's timely puzzles!
Forum Thread: Under the Sun – A 4D puzzle game (By Stegabyte)
---
Wizards: 1984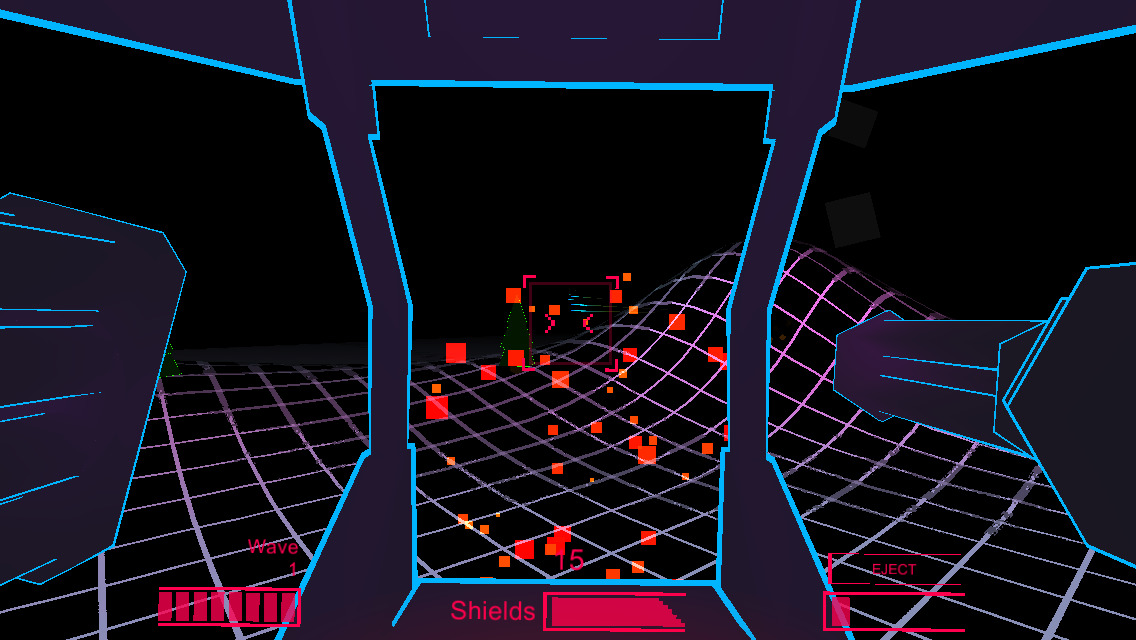 iTunes Description
You are the last remaining Techno-Wizard. The evil Techno-Viking horde has discovered your techno-tower and are coming to steal your loot!
Defend against an endless horde of enemies
Multiple enemy types
Achievements and Leaderboards
Forum Thread: Wizards: 1984 (by Terrasect Mobile)