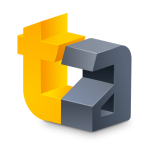 With GDC bearing down upon us, I spent almost the entire week buried up to my neck in scheduling meetings with developers, so we did a bit of a free form podcast this week. We started off talking about the things that happen when you launch a free game, and all the weird tertiary markets that have blown up surrounding the insane popularity of the App Store. From there, we chatted about the ridiculously brutal Peter Molyneux interview, Nintendo's latest plans along with some New 3DS XL chat, Eric's time with Sick Bricks, pixelated guns, and Jared shares his thoughts on King of Thieves (Free). Overall, it's a good podcast, even if it is a bit all over the place.
Don't forget to shoot us emails with any questions, feedback, or anything else relevant or irrelevant to [email protected]. We read 'em all, even if they don't make it into the podcast. As always, you can listen to us with the links below… And if you like what you hear, please subscribe and/or drop us a review in iTunes. Much appreciated!
iTunes Link: The TouchArcade Show
RSS Feed: The TouchArcade Show
Direct Link: TouchArcadeShow-193.mp3, 54.8MB
Oh, and be sure to listen to the inaugural episode of The RPG Reload Podcast!