Earlier this week we told you how Marvel and Kabam's mobile fighting game Marvel Contest of Champions had soft-launched in the Danish App Store, and today in the midst of the New York Comic-Con Marvel has released a new cinematic trailer for the game. The trailer features several of Marvel's iconic superheroes squaring off against one another, and alludes to some of the storyline that frames all the action. As the story goes, The Collector has imprisoned all the Marvel superheroes in crystals, and only releases them so they can compete in the Contest of Champions tournament. The reasons for this and what the contest's purpose are aren't exactly clear, but I have a feeling they're tied to the creepy, giant, partially invisible dude at the end of this trailer.
I actually downloaded the Danish version of Marvel Contest of Champions earlier this week, and although I haven't spent as much time as I'd like with it just yet, my initial impressions are largely positive. First of all the game looks just fantastic, and they've really captured the colorful-but-not-too-cartoony look of the Marvel heroes. The fighting mechanics are also very good. It's stripped-down fighting that's similar in a lot of ways to Injustice (Free) on mobile, but the ability to actually move your characters by way of dashing back and forth adds a lot to the strategy. There's also a bit more variety to the basic attacks you can dish out, and the special moves are also spectacular to behold, much like Injustice.
The thing I'm not so crazy about with Marvel Contest of Champions is just how convoluted everything feels. You unlock new characters buy gaining crystals, which are awarded through play and as free bonuses both daily and every four hours. WHICH character you unlock with your crystals is a total random lottery though, so if you have your heart set on a specific character you'll just have to keep pressing your luck, which is annoying. Injustice, as grindy as it may be, does the character unlocking thing much better. Also, just upgrading the characters you do own feels more complicated than it needs to be. I'm hoping I'll get a good grasp on it all with time, but it also seems like it could be way more straightforward.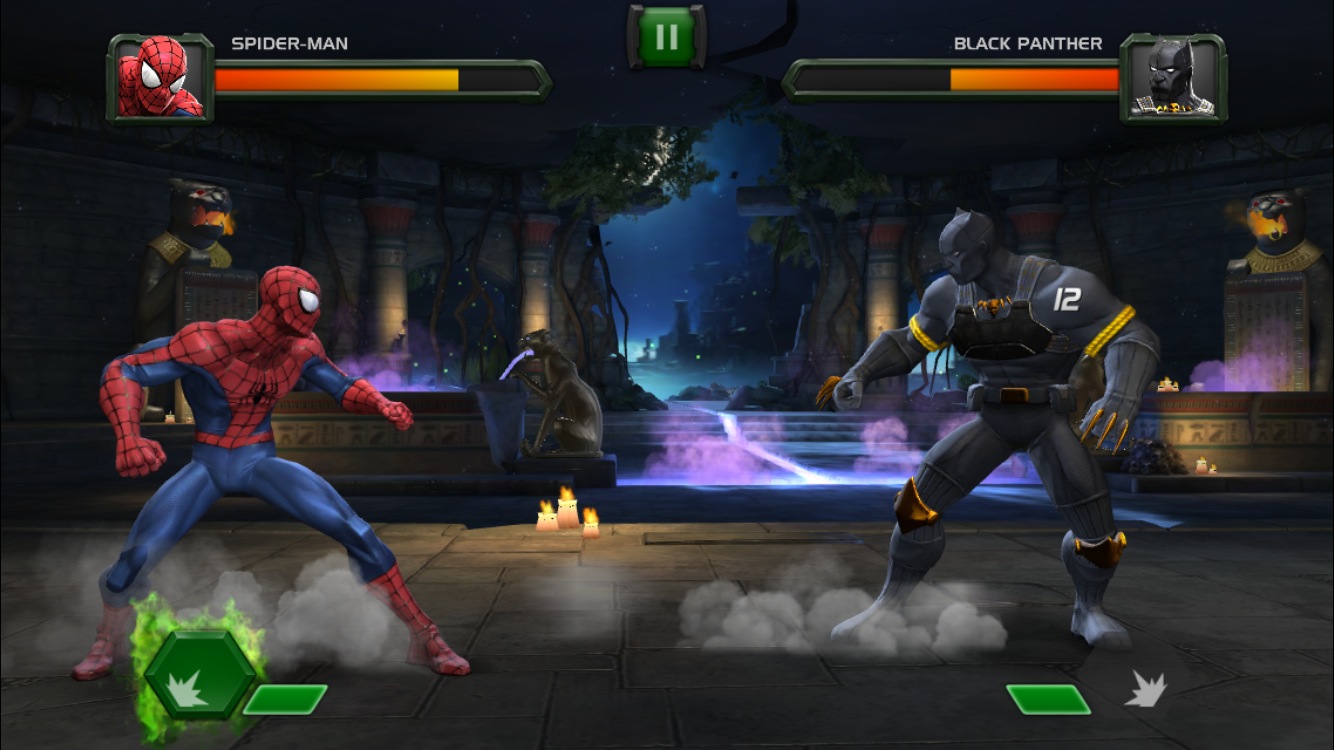 At any rate, I definitely like Marvel Contest of Champions a whole lot so far. As regular readers know, I'm a huge Injustice junkie, and I definitely feel that Contest of Champions will live a happy life right alongside it on my iPhone once it launches worldwide in December. Until that time, check out the soft-launch version if you have the means, or drop by our forums for some impressions from other early players.