Hold on to your butts, it's new iOS game release time and there's a ton of stuff tonight. I'm personally very excited about Turbo Dismount, which I've been playing for a couple of days and absolutely love. Reverse tower defense experts 11-bit take a stab at reverse reverse tower defense, which is just normal tower defense, with Anomaly Defenders. The 10000000 dude's new game Smarter Than You looks incredibly unique, and the popular Asphalt racing series gets a behind-the-back autorunner style spinoff which is nicely decked out in '80s visuals. Plus there's the usual assortment of more low key releases, many of which look really interesting. Dive in to the list below, and let us know what you're grabbing.
---
Air Race Speed
iTunes Description
Take speed to a whole new level with a racing Nintendo 3DS hit!

Air Race Speed is a solo time-trial racing game where you pilot the most powerful futuristic jets through 35 adrenaline-fuelled challenging tracks. Compete against your friends through online rankings, and get to the top of the leaderboards.

With Air Race Speed you are guaranteed to discover a brand new gaming experience, extra fast, extra immersive and extra exhilarating! Are you ready to take the adrenaline-fuelled challenge?
Forum Thread: Air Race Speed (by QubicGames)
---
Air Supply SOS
iTunes Description
Fly around with your jetpack rescuing sheep and putting them in your rocket! Aliens, UFOs, Bosses and a multitude of other hazards are out to stop you and don't forget to keep an eye on your ever-dwindling Air Supply!
Forum Thread: Air Supply – SOS (Save Our Sheep) (by Quantum Sheep)
---
Anomaly Defenders
iTunes Description
Defend the planet in the final battle of the stunning Anomaly series!

Protect an alien Homeworld under threat from an invading human counterattack in the closing installment in the Apple Design Award-winning Anomaly series. Anomaly Defenders is a fast-paced Tower Defense game where you are the alien's last hope. The human invasion is underway and their invading troops are out to destroy your outposts.

Protect the alien homeland at any cost. Tailor your defensive needs using unique tech-tree technologies to develop eight upgradable towers and much more. Repair your towers, make them go berserk, even sacrifice them in explosions that damage human troops. React in real-time to eradicate the invading forces.
Forum Thread: Anomaly Defenders – (by Chillingo Ltd)
---
Asphalt Overdrive
iTunes Description
Discover the award-winning Asphalt series' first spinoff with Asphalt Overdrive, an intense experience packed to go! Outrun the cops in an exciting game set in a "new '80s" version of California.

AN ORIGINAL MISSION-BASED DRIVING GAME
– Unlock and drive 30 high-performance, fully licensed vehicles such as the iconic Lamborghini Countach and Ferrari Testarossa!
– Improve and upgrade your cars to dominate the city streets
– Challenge yourself in 7 different mission types: Escape the cops, defeat bosses, avoid obstacles, perform impressive stunts, and more!
Forum Thread: Asphalt Overdrive (By Gameloft)
---
Astro Brawl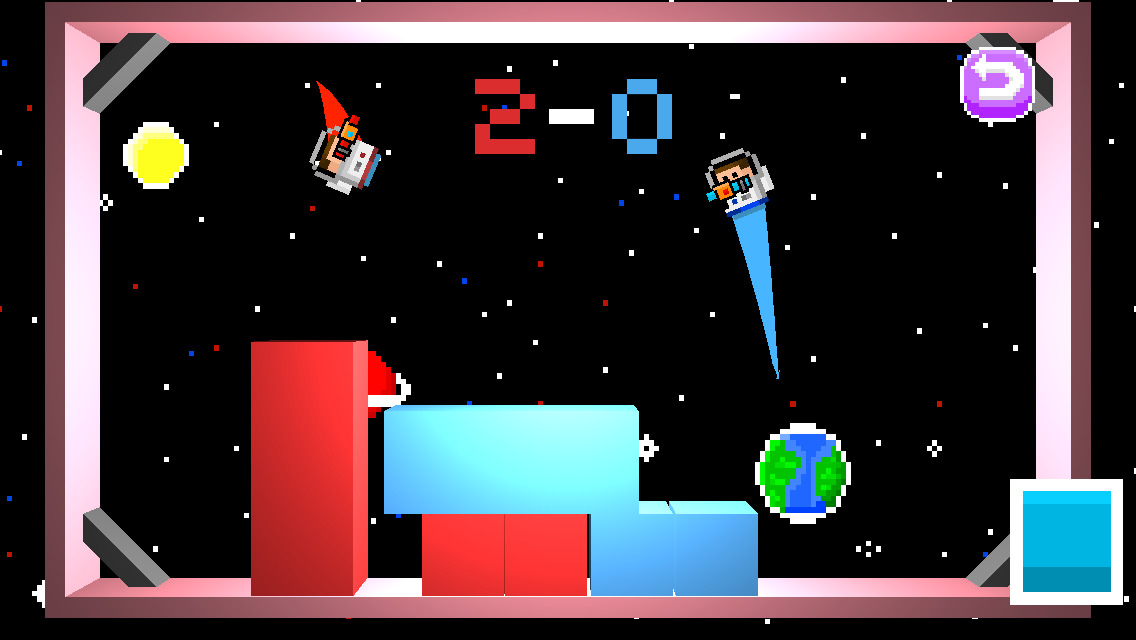 iTunes Description
Astro Brawl is a one-button 2D arcade-style brawl game set in space.

How to play: Tap your button to jump, and tap your button again to shoot. You have a limit of two jumps/shots before you need to touch the ground again and reload. Try to shoot the other player out of the air. You can play to either 3, 5, or 10.

100% created by 13-year-old Collin Murch. (It's my first app — send ideas my way!)
Forum Thread: Astro Brawl (by Steve Murch)
---
Astronest – The Beginning
iTunes Description
Lead mankind to the brave new frontier… Space! Become a hero in Cosmic Warfare and use strategy and tactics to conquer planets and build the greatest empire known to man. Legions of Galactic Battleships await your command!

Welcome to Astronest, where you and you alone will determine the fate of humanity, as it struggles to restore planets, gather resources, and find a new home. But even as humanity faces its greatest challenge ever, it has been divided. Two factions, The Federation of Terra and the Alliance of Neos are locked in a seemingly endless conflict.
Forum Thread: Astronest – The Beginning (by ANGames)
---
Cosmophony
iTunes Description
Cosmophony is a musical shooter designed for demanding gamers seeking an original and intense mobile experience.

You must control the heart of a fallen goddess within a dying universe in order to fulfill her destiny. Your goal is to progress through a series of levels designed to be played to an exhilarating, 100% drum and bass soundtrack by DJ Salaryman (DnB Arena, RAM records).

Discover a powerful new gaming experience that is uniquely satisfying.
Forum Thread: Cosmophony (by Bento)
---
Cursed Treasure 2
iTunes Description
Hordes of good heroes are on the hunt again, hungry for even more gems for the King's private collection. Gather dark forces and build towers to defend your treasure from those thieving goody-goody heroes. Drink magical soda-pop, cast mighty spells, and upgrade skills and buildings to destroy anybody who wants to touch your gems!

The latest installment of the tower defense game is now available on the App Store! Smash Knights, Druids, Pirates, Ninjas, all these greedy swindlers who call themselves the "Warriors Of Light", to protect your hard-earned treasures.
Forum Thread: Cursed Treasure 2 (by Armor Games)
---
Epic Island
iTunes Description
Welcome to Epic Island! An epic game of epic proportions.

This is a game. An epic game. An epic game set on a suitably Epic Island. Epic Island is overrun by epic monsters and outrageously epic titans. Epic monsters and epic titans are best fought by heroes. Not just any heroes, mind you. Epic heroes. Epic heroes on an epic quest to defeat epic beasts and score insanely epic loot.

Epic Island is epic.
Forum Thread: Epic Island – (by Backflip Studios)
---
Hell'o Angel
iTunes Description
Flex your fingers, hold your breath and get ready to discover the challenging worlds of Hell'o Angel!

Hell'o Angel is a side-scrolling 2D platform game. Its story starts with an angel who is tricked into descending towards hell instead of meeting with the holy one. The journey begins in a lost forest and continues through caves to forbidden mountains. It will get harder after each act with different kind of enemies but an angel should face with his fears to get blessed by the holy one.
With each path, our dearest angel will have to encounter different enemies along the way of 27 different and challenging levels.
Forum Thread: Hell'o Angel (by Privatefish)
---
Hot Wire
iTunes Description
Have you ever played Hotwire game in life? It's NOW ready on your pocket device!!

BE WARNED: THIS GAME IS SUPER*SUPER CHALLENGING!!!

HOW TO PLAY?
– Drag your finger to light as many bulb as possible!
– Don't get the electric shock
– Stay safe as long as you can for HIGH-SCORE!
– Play & compare HIGH-SCORE with friends via GAME CENTER
Forum Thread: Hot Wire (by Pine Entertainment)
---
Interstellar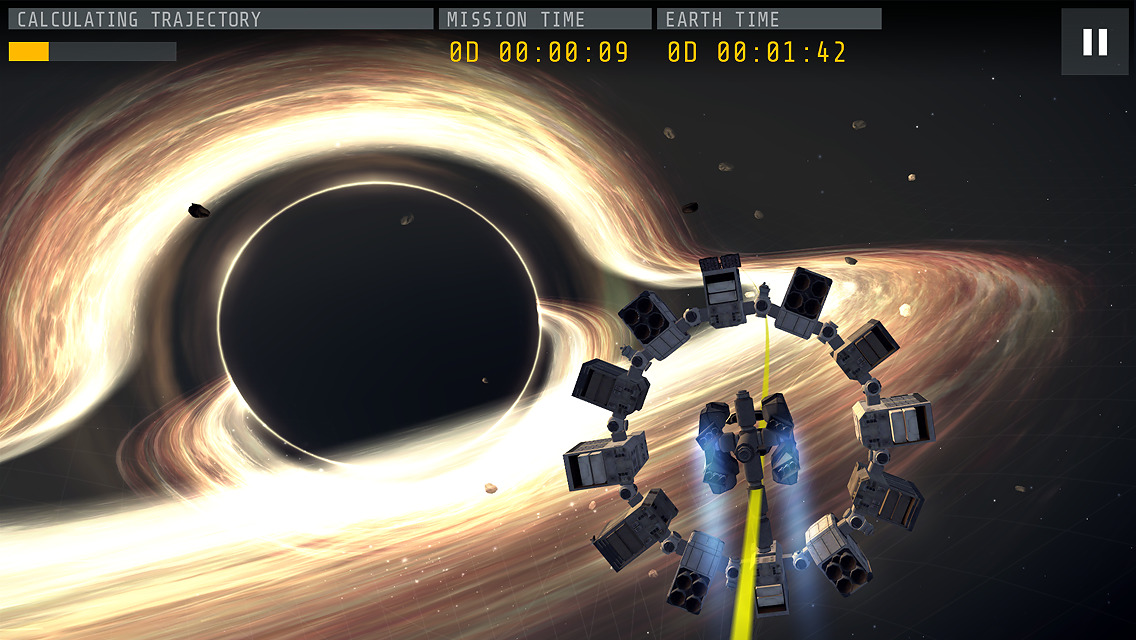 iTunes Description
Explore a universe of user-created solar systems and black holes in the Interstellar game. Create and customize you own unique solar system with planets, moons, asteroids and more.

See how far you can pilot the Endurance without running out of fuel, sling-shoting through solar systems with realistic physics and gravitational forces. Use wormholes to jump to new systems and see if you can survive the ultimate challenge of a black hole.
Forum Thread: Interstellar (by Paramount Digital Entertainment)
---
MadOut
iTunes Description
MadOut is a combat race. Destroy opponents, improve your car and weapons. Feel the dynamics of the chase and fighting battles. Enjoy good physics cars. You can choose between 13 cars, more than 50 unique tracks and several kind of weather condition.

We support the most powerful tablets and phones with OpenGL ES 3.0! Therefore, we highly detailed level of computer graphics, a large number of dynamic and destructible objects. Modern effects such as dynamic lighting and shadows, ssao, soft particles, object motion blur, Realistic damage, deferred shading.
Forum Thread: MadOut (by Ruslan Akpayev)
---
Nimble Squiggles
iTunes Description
Nimble Squiggles is a casual puzzle game for players of any age, where the player, with movement of his finger, has to help squiggles escaping by leading them to a funnel. Squiggles are affected by gravity points, one of them is special one controlled by player, so he has only indirect control over squiggles.

One of key concepts of the game is matching colors. Each squiggle has a specific color. Squiggle can only pass through the lane of the same color. The same idea of color-matching applies to the funnels, gravity points and other interactive objects. On their way to escape squiggles travel through labyrinths full of spikes, colored bombs, valves, moving saw blades and other interactive objects.
Forum Thread: Nimble Squiggles (by Bulkypix)
---
Piano City
iTunes Description
A music game has never been so fun & engaging!

Share the joy and battle your friends in PvP musical challenges! Progress through the map up to the Grand Concert hall playing classic melodies and modern hits to become the greatest musician of the Piano City. On your way to the top unlock new collectables, unique content and complete diverse musical quests.
Forum Thread: Piano City – (by Room 8)
---
Pumped BMX 2
iTunes Description
Following the 2012 cult hit, Pumped BMX is back and packed full of more wild levels, more wild tricks, and over 500 challenges and achievements. Oh, and it's 3D too!

Ride your way through increasingly challenging levels while pulling off crazy trick combinations. 16 authentic BMX tricks can be combined with flips, spins, grinds and manuals for almost unlimited creativity. Includes a totally redesigned tutorial system so in just a few minutes anyone can be shredding like a pro.
Forum Thread: Pumped BMX 2 (by Yeah Us!)
---
Puzzle Warrior Adventure
iTunes Description
Puzzle Warriors Adventure is a solo adventure game, half RPG, half puzzle-combat. Create your character and start an exciting adventure.

From castles, to dungeons, mazes and towers you'll roam through this exciting adventure searching for hidden treasures, secret passages and amazing places.

It's too dangerous to go alone, here take this dragon with you.
If you like plants better you can tame this carnivorous plant, it pushes veggies away.
Then again there are other creatures you may find on your way.
Forum Thread: Puzzle Warrior Adventure (by Bulkypix)
---
RGB Express
iTunes Description
RGB Express is a unique and beautiful puzzle game. Simple to play, yet super addictive!

You are running RGB Express, the one and only company specialized in delivering colors.

This is how you do it:
1) Draw routes for your drivers. Make sure that every house receives the correct package.
2) Press play
3) Sit back and watch while RGB Express delivers!
Forum Thread: RGB Express – Mini Truck Puzzle (by Bad Crane)
---
The Secret of Raven Rock
iTunes Description
SOLVE THE MYSTERY AND SAVE THE DAY!

After weeks of travel you've arrived home. However, something isn't quite right. The town of Raven Rock is abandoned and there is a strange, haunting vibration hanging in the air.

NOW IT'S UP TO YOU!

Explore the town and its surroundings. Investigate the shocking disappearance of the townsfolk.
Forum Thread: The Secret of Raven Rock (by Raven Rock Games)
---
Shred It!
iTunes Description
It's time to get back to paper nature!

Shred It! is an innovative endless runner by Extra Mile Studios. Snowboard your way down a never-ending hill in a beautiful paper-craft world.

In a sublimely atmospheric and ever-changing landscape, a dynamic weather system swirls around you as you tear your way down the slopes, collecting leaves and performing awesome tricks.

Every run is different, with wildlife hazards and a perilous environment that could end your perfect run in a heartbeat!
Forum Thread: Shred It! (by EM Studios)
---
Smarter Than You
iTunes Description
Smarter Than You is a social dueling game. What the hell does that mean?

DECEIVE
Trick your opponent, but don't let them trick you

IMPROVE
Unlock new cosmetic upgrades as you play. Show your flair!

CONNECT
Use Game Center to play people around the world
Forum Thread: Smarter Than You (by EightyEight Games)
---
Turbo Dismount
iTunes Description
*** The legendary crash simulator is now on iOS! ***

Perform death-defying motor stunts, crash into walls, create traffic pile-ups of epic scale – and share the fun!

Turbo Dismount™ is a kinetic tragedy about Mr. Dismount and the cars who love him. It is the official sequel to the wildly popular and immensely successful personal impact simulator – Stair Dismount™.

Turbo Dismount is the most convincing vehicular personal impact simulation seen on the App Store!
Forum Thread: Turbo Dismount by Secret Exit