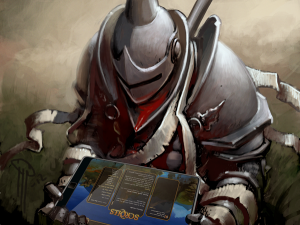 Scrolls — the hex-tiled collectible card battler and the subject of a hilariously asinine lawsuit — cost $20.95 when it was put into open beta last year. However, the development team at Mojang are gearing up for an iPad release later this fall and have announced that they'll be slashing the game's price to a cool $5.
"We've realised that our current price point is not feasible for flatter, more touchy, machines," reads the announcement on the game's official blog. "As you probably already know, games are cheap on those things. Free-to-play would be an option, but we're not keen on the way that that form of monetisation can affect gameplay."
Instead, Mojang has decided to lower the price of Scrolls on all platforms to $5. Customers who ponied up for the beta will receive $20 worth of "Shards," one of the game's two currencies which can be used to buy cards, pre-constructed decks, and cosmetic items.
Mojang haven't announced a firm release date, but they hope to move the game out of beta and release it on PC, Mac, iOS and Android in "late autumn," with cross-platform multiplayer in tow.
"Late autumn" is also (probably) sooner than "late 2014," which is when Microsoft's recently-announced purchase of Mojang is expected to be finalized. There was some worry that the impending acquisition would somehow negatively impact Scrolls, but this latest news suggests (to me) that the game is moving forward mostly unhindered.