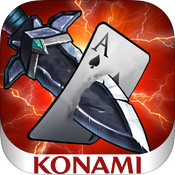 Longtime TouchArcade readers likely know the rocky history of the Sword & Poker franchise, and it appears there's a new chapter to the tale. To recap, the original Sword & Poker ($2.99) launched way back in January of 2010, and was a fantastic hybrid of poker-style gameplay and RPG-like progression. It didn't take long but the following May a sequel was released appropriately titled Sword & Poker 2 ($3.99) which didn't drastically alter the formula but did offer some new levels and improvements for fans of the first game. Both were fantastic mobile games that had a fairly large following of fans, especially around our forums. However, in late 2010, both games mysteriously vanished from the App Store.
Both the staff at TouchArcade and many forum members emailed developer Gaia Co. to find out why the titles were removed, but never heard back. Then, just as mysteriously as they disappeared, both games returned to the App Store in February of 2011. Even more strange, at some point after this both Sword & Poker games ended up disappearing from the App Store again, and again there was no explanation as to why. Then, almost like clockwork, they resurfaced yet again in February of 2013. The worst part about this whole debacle is that despite disappearing and resurfacing multiple times, neither game has been updated since their original releases in 2010, so while the gameplay itself was still fantastic both games were sorely missing basic features like Retina graphics, Game Center, iPad support and 4-inch widescreen support.
Welp, the Sword & Poker saga continues, as Konami now owns the rights to the series and they've released a new version of the game called Swords & Poker Adventures. It appears to be soft-launched just in the Singapore App Store for now (let us know if you spot it in any other territories), and it appears that it's been soft-launched since sometime in April of this year. The good news: this is a modern take on Sword & Poker with all the features the original games have been missing for years, complete with the hefty production values you'd expect from a company like Konami. The bad news: Swords & Poker Adventures is a free to play game with timers.
Now, before I start to sound too sour, Eli and myself actually had a chance to play this new version of the game at WWDC earlier this month. We met with the lead designer on the game, and our reaction could basically be summed up as 1)Super excited to see the rebirth of Sword & Poker, and 2)Super disappointed in how the free to play system was implemented. To their credit, Konami was very, very receptive to our feedback about the pay model, even jotting down several of our ideas on how to make it a more friendly system (for example, allowing the players to continue playing in some capacity even when the "energy" runs out or even an IAP that would remove the energy system altogether).
I'll be very anxious to see how the final version of Swords & Poker Adventures ends up. Hopefully this soft-launch period will give Konami a chance to take feedback into consideration and tweak the game accordingly. In fact, according to the App Store notes the game was just updated last week with tweaks to the monetization system, so I'm remaining optimistic. This definitely has the potential to be the definitive Sword & Poker experience. If you have a Singapore App Store account, you can download Swords & Poker Adventures with the link below, or jump into the forum thread for some discussion.
Singapore App Store Link: Swords & Poker Adventures, Free (Universal)