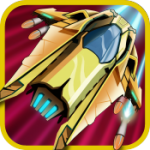 The week following GDC, we're still down exactly one Mike Meade, but that doesn't stop Jared and I from recording a rockin' podcast. We talk about Gunnar gaming glasses, Pam's birthday, iOS games, and the ridiculous onslaught of bummer news this week… Including, but not limited to the Threes / 2048 drama and what there is to do about the crazy state of clone madness on the App Store.
Don't forget to shoot us emails with any questions, feedback, or anything else relevant or irrelevant to [email protected]. We read 'em all, even if they don't make it into the podcast. As always, you can listen to us with the links below… And if you like what you hear, please subscribe and/or drop us a review in iTunes. Much appreciated!
iTunes Link: The TouchArcade Show
Zune Marketplace: TouchArcade.com Podcasts
RSS Feed: The TouchArcade Show
Direct Link: TouchArcadeShow-148.mp3, 87.6MB
GAMES
NEWS
---
This week's episode of The TouchArcade Show is sponsored by…
FLASHOUT 2, Free - FLASHOUT 2, the sequel to the anti-gravity racer FLASHOUT 3D, is finally here! In FLASHOUT 2, you pilot one of many ultra-fast ships and use your arsenal of rockets, guns, bonuses, and upgrades to fight your way to victory!
FLASHOUT 2 features a redesigned and enhanced Career Mode, massive improvements in steering, physics, opponents' AI, and other gameplay elements, a free Online Multiplayer Mode, and other completely new and exciting game modes.
FLASHOUT 2 also features high-end graphics and supports game controllers. It's available now in the App Store for $2.99 – be sure to check it out!