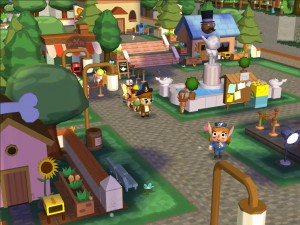 If you're new to the world of iOS gaming (and by new, I mean "not around in early 2009ish") chances are you've never heard of Hand Circus. Well, they were responsible for what was easily among the very best of the early iOS games, Rolando. It was released in late 2008, back in the glory days when ngmoco was still publishing fabulous iPhone games instead of blazing the trails of free to play. It was totally appropriate to describe Rolando as "the Mario of the iPhone" and Hand Circus was wholly responsible for showing us just what is possible when you make an iPhone game instead of merely a game that runs on the iPhone, an important distinction which was nearly non-existent in the early days of the App Store.
Rolando 2 followed later that summer, and Hand Circus took the incredible building blocks of the original and fleshed the game out into a universe, leaving us super hopeful for other things from the studio. Unfortunately, just around the time we were all really excited for a Rolando 3, ngmoco announced that they were switching to free to play, and further Rolando games didn't really fit into their new found business model.
Things sort of went dark from Hand Circus, until now. The UK based studio just announced a new publishing partnership with Backflip Studios, the same guys who linked up with Phobic "Team Phobic" Studios to release the smash hit Dragonvale (Free). The first game they're releasing this summer is called Seabeard, which puts players in charge of going on an adventure to explore oceans in Wind Waker-looking nautical battles, build a party to crawl through dungeons, and a ton more:
It's hard to tell from the trailer just what the focus of the game is, as it seems like there's an awful lot you're going to be able to do in it. Regardless, I'm all about cel shaded games, and I'm especially all about anything from Hand Circus. We're planning on getting a hands on of the game next week at GDC, so, stay tuned for more details.