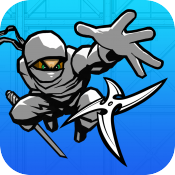 This week's podcasts starts with a nice long discussion on emulation, spurred by the recent release of GBA4iOS. From there, we of course talk about the hottest games of the week, including a typical chat on free to play mechanics due to Bug Heroes 2 launching free to play and immediately switching back to paid. All the relevant news is in there too, and we take a break to talk about the Mikey games getting ported to Android.
If you've been having trouble with our podcast feed, it seems like the way to fix it is by unsubscribing and resubscribing in your podcast management app of choice.
Don't forget to shoot us emails with any questions, feedback, or anything else relevant or irrelevant to [email protected]. We read 'em all, even if they don't make it into the podcast.
As always, you can listen to us with the links below… And if you like what you hear, please subscribe and/or drop us a review in iTunes. Much appreciated!
iTunes Link: The TouchArcade Show
Zune Marketplace: TouchArcade.com Podcasts
RSS Feed: The TouchArcade Show
Direct Link: TouchArcadeShow-143.mp3, 82.8MB
GAMES
NEWS
---
This week's episode of The TouchArcade Show is sponsored by…

Epic Ninja - Challenging Platformer With Boss Fights & 90 Levels!, Free - Epic Ninja Game is a new 2D twitch platformer – a retro blast from the past with its 8-bit sound and pixel art graphics. Play one of 90 levels in 3 exciting worlds. The story is in an action-packed comic book spread across the game. Every world has boss fights and many new ways to die!
Epic Ninja Game is available now on iOS, Android, Mac, and PC. See the trailer and get it now at www.EpicNinjaGame.com.