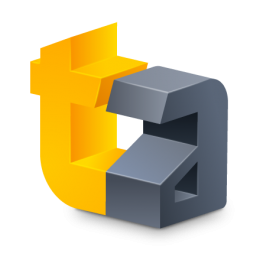 2013 is coming to a close, and this has been a monumental year for iOS gamers. We got iOS 7, redesigned iPads, finally a Retina Display on the iPad mini, faster iPhones, Apple-blessed physical controllers, and tons more. As of today, the App Store has had 83,880 games released this year, and of those games we reviewed 521 of them. Now, we distill that down further to a single game of the year, one of 83,880.
Last year we tipped our hat at Tiger Style's amazing Waking Mars (Free) and this years pick is similarly a must-have title that everyone should play.
TouchArcade Game of the Year
Ridiculous Fishing - A Tale of Redemption, $2.99 [Review] [Forum Thread]
Vlambeer's Ridiculous Fishing has continually been the game we've been unable to put down since its release. It has a ridiculously fun gameplay loop that revolves around fishing, tilting your phone to avoid fish to get as deep as you can, then similarly tilting to catch as many fish as you can on the way up. From there, you tap he screen like mad to shoot the fish out of the sky, collect cash, unlock upgrades, and do it all over again.
The truly clever thing about Ridiculous Fishing is that the story mode included in game is actually just an incredibly extended tutorial to prepare you for competing in online leaderboards by playing the endless mode. A great "ending" combined with loads of secrets to discover provides tons of reasons to keep going back. As a universal app, Ridiculous Fishing is the game everyone should have on their iOS device.
Runner Up
The Room Two, $1.99 [Forum Thread]
We absolutely loved The Room (Free) when it launched, with the only real complaint being that we wish there was more. The Room Two, in a nutshell, is way more of The Room. The puzzle box solving gameplay has been expanded into much larger environments, holding multiple objects, which has greatly amplified how tricky solving the puzzles has gotten.
A great hint system provides bread crumbs to follow if you get lost, and I can't wait to see where Fireproof Games takes The Room next. The universe they're crafting is awesome, and much like the original, the worst part about The Room Two is that it ends. If you've got an iPad, you need this game. If you've got a device with a smaller screen, stay tuned for a release in early 2014.
Honorable Mention
Year Walk, $3.99 [Review] [Forum Thread]
It's crazy looking back at the history of the App Store and seeing the evolution of the super simple games we saw when the App Store first launched to games that craft a world so deep that they require a companion app. This is the case with Simogo's Year Walk. The Year Walk Companion (Free) serves as your supplemental tour guide through this must-play highly atmospheric puzzle-packed adventure that is as much of an experience as it is a game.
The tricky thing about Year Walk is that much like other fantastic adventure titles like Sword & Sworcery ($3.99), the less you know about it before playing, the better the whole experience will be. If the trailer piqued your interest, download this game, grab some headphones, turn the lights down, and prepare for something special.