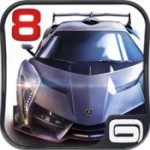 Boy, I feel like my job has been made easy the past couple of weeks when it comes time to pick our TouchArcade Game of the Week. Both Mikey Hooks and Plants vs. Zombies 2 were clear-cut choices, and again this week, despite another pretty good lineup of new releases, choosing Asphalt 8: Airborne (Free) as our Game of the Week seems like a no-brainer.
Gameloft's Asphalt series has been chugging along on mobile gaming devices for nearly a decade, and to be perfectly honest, I've never been a huge fan of them. I love a good arcade racer, and occasionally can dig into a meaty simulation racer, but the Asphalt games have always felt like something in-between that never really did either style that well. So I wasn't that excited when Asphalt 8 dropped on us this week, but as I'm always willing to try out new games, I reluctantly gave it a spin. And boy howdy was I pleasantly surprised.
Asphalt 8 picks "arcade style" as its chosen focus and totally runs with it. It's so ridiculously over-the-top I can't help but grin like an idiot as my car is doing insane flips through the air, smashing other cars off the track with reckless abandon, and generally causing all sorts of vehicular mischief. However, just because Asphalt 8 lives within the realm of "this stuff could never happen in real life," it has surprisingly great racing mechanics, with challenging AI and downright stellar level designs. It's also quite impressive in the visuals department.
You can read our full 5 star review of Asphalt 8 for some more insight, and we talk it up at length on our podcast this week so be sure to give that a listen. The one negative I can come up with for Asphalt 8 is it relies pretty heavily on its IAP system in the later stages of the game, but it's not overly aggressive at any point and you'll never be forced to spend more than the initial price, and we've put together a pretty nice guide to help you navigate your spending should you feel the need. Seriously, Asphalt 8 delivers intensity and fun in spades for its meager asking price, and this is one game that you'll need on your device if you're even marginally interested in racers.