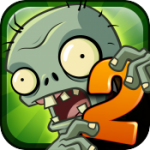 There were a heck of a lot of games released this week, but EA and PopCap's Plants vs. Zombies 2 (Free) is the clear stand-out. As we mention in our five star review, not only is the game a fabulous sequel that takes the original Plants vs. Zombies ($0.99) but the game's free to play payment model is structured in a way that it's actually free to play. In fact, actually unlocking things and progressing through the game without paying is so much fun that when it launched in the US, I deleted my New Zealand copy and started all over again… And I'm still having a blast.
If you originally dismissed the game because you've been burnt by abusive IAP which has turned you off free to play, I highly recommend giving PvZ 2 a chance. If you need some additional convincing on that, pop in to our forum thread.
Seriously, don't miss this game.