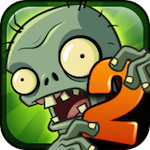 In case you were worried: yes, more content is coming to PopCap Games's Plants vs. Zombies 2 (Free).
Earlier this morning during EA's gamescom press conference, EA's Tony Leamer took the stage and announced that a new content pack called "Far Future" is coming to the free-to-play game. Sadly, he didn't add any specifics — we don't know when it's coming or what exactly it'll bring to the game. It's not hard to imagine though.
In other news, by the way, EA released some interesting stats on PVZ2. To date, it has hit just over 16 million downloads, which makes it "the biggest mobile game launch" in EA history. Over 11 billion suns have been generated, players have fought over 2 billion zombie waves, and around 25 million hours of the game have been played.
Plants vs. Zombies 2 is available now on iPhone, iPad, and iPod touch. It'll hit other platforms later this year "and beyond."
[via Joystiq]