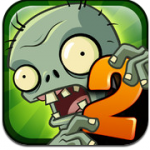 Originally released for the Mac and PC in early 2009, Plants vs. Zombies ($0.99) managed to similarly capture the lightning in a bottle that has made all PopCap releases impossible to put down no matter your gaming pedigree. Whether you're the most casual gamer on the planet, or as hardcore as they get, everyone seems to have a soft spot for Plants vs. Zombies, and most, if not all, other PopCap games for that matter. An iOS port of PvZ hit a little less than a year following the original Mac/PC release, effortlessly earning five stars in our review, and over the years the game has been ported to basically every other platform under the sun.
The years passed, and zombie-slaying gardeners everywhere were left wondering what was next in the Plants vs. Zombies universe before PopCap blew us away with the announcement of the cleverly subtitled sequel, Plants vs. Zombies 2: It's About Time. After some previews at E3, and both a New Zealand and Australian soft launch that seemed to go on forever, the game is finally available to the whole world.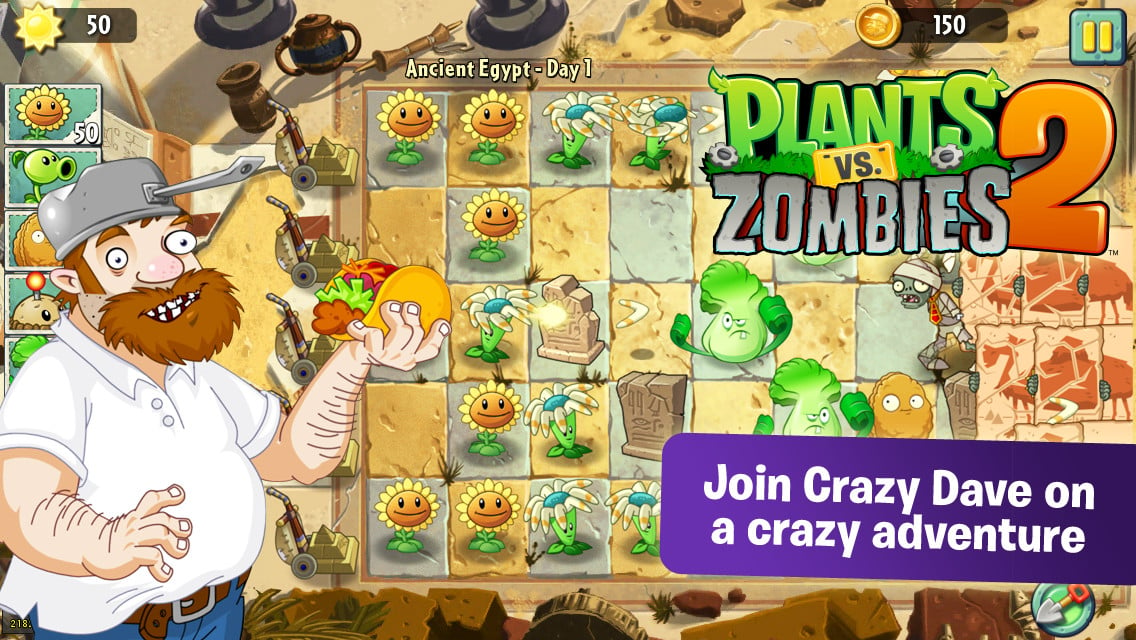 This puts us in an awkward position, as this is a game you sort of have to review, right? But, it's a free sequel to an amazing game you've likely already played and I can't think of a single reason for you to not download it immediately. But, hey, if you like reading game reviews just for the sake of reading game reviews, I'm happy to oblige… Just, at least start downloading the game so you can play it once you've finished. Trust me on this.
Alright, so, PvZ 2 at its core is played just like its predecessor. If you didn't play that, imagine a really stripped down game of tower defense. It all takes place on a grid, you're trying to defend the left side of the screen while zombies lumber in from the right, typically going straight down a single row from right to left. Most games start by planting some sunflowers which generate sun points which are in turn then used to buy plants that automatically fire at the zombies.
The beauty of the PvZ series is that this gameplay formula is drop-dead simple, yet the way the game progresses with new types of plant defenses as well as new types of zombie invaders allows for an impressive amount of strategic depth- Particularly as you unlock new plants for your arsenal that do all sorts of crazy things between delaying zombies, blowing them up, and tons, tons more.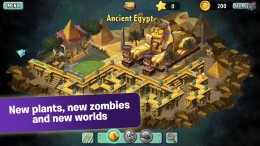 The best way to describe Plants vs. Zombies 2 is by saying it's simply Plants vs. Zombies with more, and much more content coming if the amount of "coming soon" stuff all over the place is any indication. There's new plants, new zombies, new themes, new mini-game levels, and a totally new surprisingly generous free to play pay model which legitimately allows you to play the game from start to finish without spending a dime.
Content in PvZ2 is gated in a way that requires the two in-game currencies: Keys and stars. Keys drop randomly while just playing the game, and you get stars by completing specific objectives such as beating a level without losing a plant to a zombie and seemingly endless other goals. With the sort of abusive free to play games we see on the App Store, admittedly, this sort of system is going to send up some serious red flags.
Trust me, it's really not that bad. In fact, instead of feeling grind-y or time-sink-y like far too many free to play games, it feels more like re-playing games like Sonic to collect Chaos Emeralds. Hunting for these new objectives often has you taking a different approach, or the level itself could even change requiring a different strategy entirely.
Of course, you can just drop a few bucks and buy your way past the game's roadblocks, but I have no idea why you would when just playing it is so much fun. What is actually tempting at times from the in-game store are some of the power ups which come in ridiculously handy if you find yourself stuck on a particular level… But, again, this is totally optional, and a number of people on our forums have similarly completed the game without spending any money.
All in all, PvZ2 is an incredible sequel. Unless you're exceptionally impatient or just not very good at these kind of games, it'll be totally free for you to play. If you've found yourself burnt by freemium games in the past, I highly recommend giving this one a spin as it might change your opinion on the pay model. I have no doubts EA is going to make a killing on this game, as there are a lot of impatient people out there who aren't very good at video games if the iTunes charts are any indication, but, I feel confident in saying that for anyone reading TouchArcade- This is likely going to be a completely free (and completely awesome) game for you.