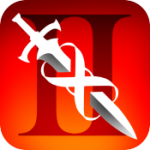 Last week was the 5-year anniversary of Apple's App Store, and to celebrate they coordinated with various developers to offer a selection of 10 different apps and games for free during the week. One of the games that was on offer was Epic and Chair's Infinity Blade II ($6.99), which was free for the very first time ever.
According to an article from AllThingsD, the promotion was quite the success for Infinity Blade II, and the game saw 5.7 million new players in the seven days it was offered for free. A big portion of those new players, 1.7 million of them, came on the very first day the game's price dropped, Monday July 8th.
However, if you think that all these millions of downloads has directly translated into millions of dollars in profit through people buying in-app purchases in Infinity Blade II, that's not necessarily the case. Not just yet, anyway. As Chair's publicist Laura Mustard stated in an email to AllThingsD regarding IAP revenue, "While we normally notice an increase at times when we've done free promotions, we don't think it's significant, because the game is balanced in a way that does not require any IAP."
I have to imagine that a good portion of the nearly 6 million new players will eventually buy themselves some in-game coins through IAP, but that's not the only benefit to offering a game like Infinity Blade II for free and having a huge influx of new players. Mustard also noted that sales of the original Infinity Blade ($5.99) were 2.5 times higher than they were in the previous, pre-freebie week, and that sales of 'Infinity Blade: Awakening', an e-book based in the Infinity Blade universe that sells for $2.99, was also up roughly 70% during the promotion week.
The App Store is a weird place. Sometimes giving something as excellent as Infinity Blade II away for free can reap benefits in ways other than direct revenue, but it sure seems like having an internationally recognized brand, large publisher like Epic, and Apple's featuring all on your side is imperative to make something like this worthwhile. With Infinity Blade: Dungeons now officially cancelled, I'll really be looking forward to whatever is in store next for the Infinity Blade series.