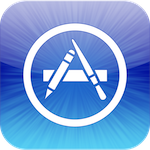 It grew up so fast! The App Store is five, and creator Apple is celebrating this little fact with — what else? — a sale on some of the funnest, most useful apps that you can put on your iPhone or iPad. Word got around about the sale last night, but it has since been made official. And, yeah, Tiny Wings, Infinity Blade II, Where's My Water?, and Superbrothers Sword & Sworcery EP are the games being offered for free, as we've previously noted.
If you want a closer look at these games that linked post gives you precisely that. Spoiler, though: all of these games are pretty good. You should just go download them now and not bother reading because (a) they're free and (b) each offers something really unique to the platform as a whole.

The five apps being offered up as part of this celebration are pretty incredible, too. Barefoot World Atlas , Day One , How To Cook Everything , Over , and Traktor DJ for iPhone are apps that you'll be able to use basically everyday.
Over 50 billion apps have been downloaded since the App Store launched in 2008. As of last month, over 10 billion bucks have been paid to developers. Incredible, right? We wonder what these numbers will look like in another five years.