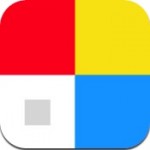 Stickets ($0.99) is a piece of art, and wouldn't look out of place hanging in a modern art museum, right between a Piet Mondrian and "Bored Kid Playing Tetris, Oil on Canvas." Developer Wanderlands has created a striking, spare work, a mix of intellect and aesthetics. And, like, it's really, really fun.
It's a single-player puzzle game with a look and layout reminiscent of Letterpress. Simply put: place L-shaped pieces, each with three different colors, onto the board. When three or more colors are connected, tap to clear them from the board. Keep going until you run out of room. There's no opponent, no AI. There's just you and an increasingly unwieldy board.
"Space" mode requires thoughtful consideration of every move. I'd sit and play out different scenarios in my head, only to make a move and suddenly realize the thousands of ways I'm an idiot. In "Time" mode, it's the opposite, as every piece turns into a ticking time bomb. After 10 go off, the game is over, but the process can be reversed by matching four or more colors.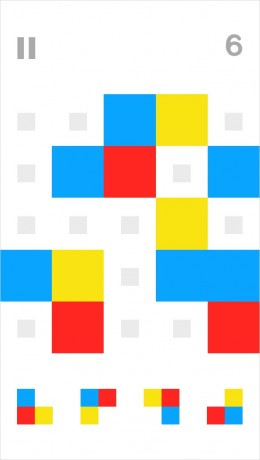 In "Time," the board doesn't get stuck as easily, but does require the ability to consider all possibilities very, very quickly. Big moves run the risk of filling up the board too fast, but acting slow leads to premature-yet-always-inevitable doom. Score 50 in both "Space" and "Time," and "Puzzle" is unlocked, consisting of seven incredibly difficult brain teasers that, frankly, hurt my brain too much to talk about right now.
Along with game modes, players can unlock themes. Themes consist of new color schemes, which are nice. Even better are the soundscapes each theme unlocks. On every game mode, sound works differently. In "Space," sounds are created solely through dropping pieces, with different areas of the board creating different sounds. On the "Classic" theme, my personal favorite, it's like an orchestra of strings, woodwinds and piano tuning before a performance. The sonic waves of "Ice Cream" and "Primary" themes both provide a nice contrast.
"Time" mode, meanwhile, reflects its chaotic gameplay with actual melodies that kept me engaged nearly as much as the puzzles themselves. At one point, I was playing Stickets in the car, sound hooked up to the stereo, and the other passengers didn't even know I was playing a game. It could have easily been some forgotten John Cage track. That's solid sound design.
When the gameplay, the visuals, and the stunning aural sensations combine, the result is bewitching. Wanderlands has managed to evoked the dreamy wonder of the Nintendo DS game, Electroplankton. I kept waiting for the game's incredibly simple premise to wear thin, but as I played, layer upon layer of depth revealed itself, without ever losing site of that core, simple gameplay. High scores felt earned, and they'd put me into a blissful trance of color and sound… man.
Losing hurt, but it always felt deserved, and the soothing sounds kept me from throwing my iPhone out the window. It's a lot easier to lose when playing a game that feels like getting a hot-stone massage while talking it out with an anger management therapist, and the therapist is Enya and also Enya is an amazing puzzle game in this scenario. And anytime I wanted a change, switching up the theme and mode made it seem like playing the same game in a slightly different dimension. This is the gaming equivalent of yoga.
Stickets is the first commercial iOS release from Wanderlands, and it's by far their best, although I highly recommend checking out their free browser games, Midas and Impasse. There's Game Center support, no IAP, and the developers have promised updates with new puzzles and themes.
This is the kind of game I'd use to introduce a family member to iOS gaming, or to a cynical core gamer like myself. Any single element of Stickets would have endeared it to me. Combine its gameplay, controls, visual design and sounds? It casts a spell. Like, a really, really fun spell. And Enya is there, probably.