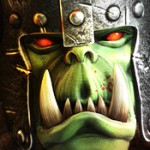 Tonight's the big night: Rodeo Games's and Games Workshop's Warhammer Quest is coming to iPhone and iPad tonight. It'll launch as a Universal app priced at $4.99, which is a rad price for a game that can consume your life if you let it.
I've praised this thing over and over again in the past, so you've probably caught some of what I'm going to say here… but just in case: this is an awesome port that manages to feel like a real video game unlike a lot of board game ports out there. Also, it's a pretty rad loot-based dungeon crawler on its own, boasting tons of quests, random loot, and awesome encounters. You can read more about it here.
Or you can watch Jared and me play it. This afternoon, Jared and I took on a side quest and also visited a town in order to kinda give you a big, long look at the game. You'll see how brutal the game's world can be, as well as get a taste of, basically, every one of the game's mechanics. Here you go:
Quest should appear at about 11PM EST in the US. If you're following it on your Watch List via our app (Free), you'll get a notification when it drops.
International App Store Link: Warhammer Quest, $4.99 (Universal)