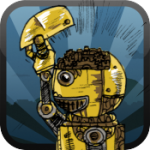 It was nearly a year ago that we first heard about Deepworld (Free), a 2D Minecraft-like building and crafting game set in a very cool steampunk world. Deepworld launched on the iPad this past December, and although there are tons of these sandbox-style games all vying for your gaming attention, we thought that Deepworld was one of the better ones and worth your time to check out, especially since it's a free download.
That recommendation was limited to iPad owners though, so if you're rocking an iPhone or iPod touch only then you were out of luck. Until last week that is, when Deepworld was updated to be Universal. Now smaller-screened iOS gamers can finally explore the interesting worlds of Deepworld.
That's not all, though, as since we last talked about Deepworld in December the game has been updated numerous times, adding all sorts of new functionality and content as well as tweaking and smoothing out the entire experience. You can get all the nitty gritty details in the App Store update descriptions, but if you tried Deepworld initially and it didn't click with you then, it's worth giving another look now. Also, join in with the community at the official Deepworld forums or the game discussion thread in our very own forums.