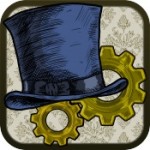 It was way back in April of this year that we first took a look at an ambitious online multiplayer 2D sandbox game called Deepworld (Free), and at long last the game has found its way into the App Store.
Deepworld takes that whole Minecraft thing – building a world out of various kinds of blocks and crafting items using resources that you discover in that world – and puts it in 2D side-scrolling form, like Junk Jack ($0.99) or Terraria. Oh, it's also steampunk-themed, and has this cool hand-drawn art style that really sets it apart visually from similar titles.
In Deepworld, you're able to connect to a variety of different kinds of worlds online and work with others in real-time to build, mine, battle enemies, or do pretty much whatever you want. The initial download of Deepworld is free, and gives you limited access to the available online worlds, and caps your character's experience level. For a $4.99 in-app purchase you can unlock the entire game, which allows your character to fully progress and gives you access to all the premium worlds as well as the ability to create your own private worlds. You'll also get access to a ton of exclusive loot that's only for players of the full game.
The free version of Deepworld should give you a pretty good idea of whether or not you'll want to unlock the full version. Deepworld is also available on the Mac, and players can play cross-platform across the Mac and iOS versions. It's iPad only for now, but there are plans to bring it to the iPhone in the future. Check out this latest trailer to get a taste of what Deepworld is all about.
I played around with a beta version of Deepworld not too long ago and found it to be an incredibly interesting title. All the aspects of exploration and discovery that you'd expect from a sandbox title are present, and the whole steampunk thing makes for a nice variety of items and decorations to adorn the world with. Plus it's pretty cool to be zipping around in Deepworld and run across other people online for some multiplayer shenanigans. I'm beginning to dip into the release version now, which just went online worldwide last week.
If you're an iPad owner I'd definitely recommend checking out the free portion of Deepworld. It can be quite daunting at first but there are some nice tutorials on developer Bytebin's YouTube channel and in-game, and you can always stop by our forums to get some help from fellow gamers and the developers themselves.