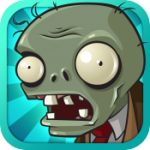 Here's a real treat. One of the most popular and beloved tower defense games, and really just one of the most popular games in general, Plants vs. Zombies ($0.99) and its iPad counterpart Plants vs. Zombies HD ($0.99) are both currently free for the first time ever.
Plants vs. Zombies is an institution in the world of video games, but in case you're unfamiliar it sees you strategically placing various types of defensive plants in order to keep waves of undead from breaking through and munching on your brain.
It can be a highly strategic and challenging game, but Plants vs. Zombies is also great at explaining itself and gradually ramping things up, and is the kind of game that even non-gamers can easily pick up and get totally engrossed in. That's probably why it's so darn popular.
Anyway, if you somehow haven't picked up Plants vs. Zombies at some point over the last few years, or if you're a fan on a different platform but haven't yet grabbed a copy for your phone or tablet, then now is your chance. My only gripe is the lack of widescreen support for the iPhone 5, though that's a minor thing. Hopefully PopCap will add support in the future, or maybe we'll just have to wait for Plants vs. Zombies 2.
You can check out our original review of Plants vs. Zombies or see what's shaking in the forum thread, but no matter what don't miss this chance to snag an absolute classic for free while you can.