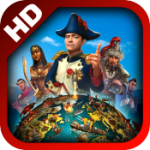 You can now buy a bunch of new features for 2K Games' Civilization Revolution ($2.99), if you've got the dough to spare. Today's update has ushered in a weird new in-app purchase scheme that allows you to separately purchase packs of new units and buildings for each of the game's armies. You can also buy a pack of four additional wonders or, if you're feeling froggy, you can buy a competitive multiplayer mode to challenge "up to three" friends.
Each unit and building pack, which covers four specific armies, is 99¢. The Wonders pack is also 99¢. The multiplayer will run you $2.99. There's a bundle option for the armies, if you're wondering, which allows you to grab them all for $3.99.
The patch notes cover what armies are bundled together, so hit those if you're thinking about grabbing an upgrade or two, but not three or four. We're definitely interested in giving the new multiplayer a spin — this game has been a radical solo experience for a while now, and it'd be nice to see how it plays with friends.
Both the iPad and iPhone version of Civ Rev are now on sale, by the way.