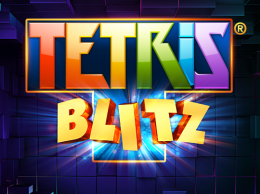 If the level of outrage garnered from Real Racing 3 going freemium is any indication, your going to want to shield yourself properly from this one. EA has announced that iconic block-dropping game Tetris will also be getting the freemium treatment later this spring with the release of Tetris Blitz. The game will center around a 2-minute timed mode where you'll need to clear as many lines as possible while shooting for the highest score. Clear blocks efficiently enough and you can trigger Frenzy Mode which will increase your multiplier for even bigger scores. Beyond that, special items will offer power-up abilities and new ways to score, and the items will change on a weekly basis to keep things fresh. If it all sounds a lot like Bejeweled Blitz (Free), a massively popular Bejeweled spinoff from EA-owned PopCap, that's because it's basically the same idea.
Also like Bejeweled Blitz, Tetris Blitz will offer integration with Facebook so you can spam…err, challenge your friends to beat your high scores and partake in weekly competitions. Additionally, the "One-Touch" controls – which were first introduced in the revamped Tetris ($1.99) that released in late 2011 and were quite well-received – will be available with an enhanced "Drag and Place" scheme for players looking for even more control options. These are in addition to the classic swipe controls which have been a part of touchscreen Tetris since day one.
Speaking of the re-released Tetris, it created quite a bit of controversy when it hit the iPhone in late 2011 and the iPad in early 2012, which was the result of EA pulling the original Tetris that had been available for purchase since the App Store launched in 2008 and replacing it with the new version that was riddled with some pretty crazy IAP options. IAP can be done tastefully, and while our initial impressions of the freemium Real Racing 3 seemed positive we'll still have to wait and see how it fully shapes the experience, but the IAP that was in Tetris was just plain awful. Hopefully that's not the case with Tetris Blitz as it sounds like a great spin on the classic formula. We'll find out when Tetris Blitz launches this spring.
[Via Joystiq]