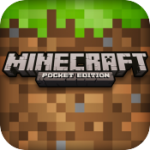 As we mentioned back in December, Minecraft Pocket Edition ($6.99) passed the 5 million units sold mark (and that's before including the crazy download numbers from Christmas) and developer Mojang was busy working on an update for release later this month or in early February. A couple of the Mojang team members responsible for the Pocket Edition have taken to Twitter to dish some details about what we might be seeing in this upcoming version 0.5.1 update.
Jens Bergensten, who was a lead designer for Minecraft on desktop and recently jumped over to work more heavily on the Pocket Edition, tweeted yesterday that the sand and gravel blocks in Pocket Edition will soon succumb to the effects of gravity, just like in the desktop version. He also tweeted a picture of clouds which fellow Mojang'er Johan Bernhardsson has added to Minecraft – PE. You can see a screen of those clouds below, but Johan goes on to mention that only newer devices will support the clouds while slower, older devices will remain with a pure blue sky.
Hopping back over to Bergensten's feed, earlier today the developer tweeted a picture of some new blocks that are coming to the mobile Minecraft, which you can see below. If you are a big player of Minecraft on desktop or console then chances are those blocks will look pretty familiar. Below that are a couple of screens showcasing some new block-placing behaviors which the team is testing out, but will depend on how well they work with the whole touch interface of the game. Finally, Jens says that armor will "probably" be a part of the version 0.5.1 update too.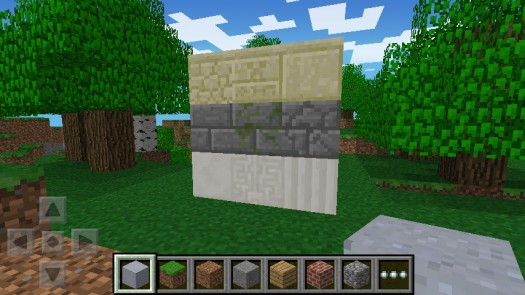 While the new update stuff certainly sounds cool, what everyone has been asking about since the beginning is when proper caves will come to Pocket Edition. Well, bad news folks, as Jens reveals that generating caves causes too much of a performance drop so they aren't planned for the immediate future. While on the topic of things not coming to Minecraft – PE right away, his twitter feed also reveals that the Enderman won't be appearing on mobile at this time and the online multiplayer that is planned for the Pocket Edition won't be coming in this next update either.
But hey, I don't want to be a Debbie Downer talking about things not coming to Minecraft – Pocket Edition, because the reality is that the mobile version has grown by leaps and bounds since its initial release and our review back in November of 2011. Having Jens Bergensten working on the mobile edition will I think accelerate its progress a great deal too, as he's even stated that the Pocket Edition needs to catch up to the desktop version. That gets me excited.
Look for version 0.5.1 to hit in late January or early February, and we'll continue to stalk these poor Mojang employees' Twitter accounts scrounging for information. We'll also keep our eye out for some official announcements regarding Minecraft – Pocket Edition straight from Mojang's website.
[Via Jens Bergensten and Johan Bernhardsson on Twitter]