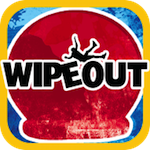 Earlier this morning, Eli and I spent some time with Wipeout ($1.99). It's an "old" game by TA Plays standards, but it's an otherwise interesting one because of its staying power in the App Store charts. We took a look at it in this context, and were kinda surprised by how not bad it was. This is a pretty fun physics-based platformer on its own, and we're guessing it hits even harder for fans of the TV show it's based on.
If you didn't know, in Wipeout you're tasked with weaving your character through three platform-based obstacle courses under a certain time limit. Each course is littered with weird, rubber-y machines designed to knock you off the platform. You can fall down as many times as you want. It's the time that matters.
Give it a look if you haven't yet. It's pretty cool in its own way.