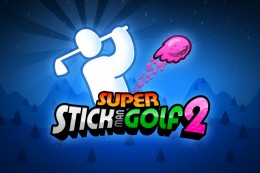 Last July we got the exciting news that a sequel was in the works for Super Stickman Golf ($2.99), a side-view physics game that operates under the guise of a golfing game and totally works because of it. By October we had learned that Super Stickman Golf 2 was still chugging away in development, but unfortunately it wouldn't hit its intended 2012 release window. Now with the holidays behind us and the new year in swing, developer Noodlecake has posted a new blog entry to their website summarizing their very busy 2012 and also dishing a bit of new info on the highly-anticipated sequel.
First off, they seem pretty confident that Super Stickman Golf 2 will still hit in Q1 of this year, which was their target after pushing the date past 2012. So that's good. It's about to enter alpha testing and if nothing major pops up it'll hit beta and come along sometime in the next couple of months. The new gameplay elements sound like they're coming along quite well, keeping the same core stuff that made the previous game such a hit but adding crazy environmental things like portals, sticky walls, and gravity boosters in the mix to spice things up. Check out some new work-in-progress screens of Super Stickman Golf 2.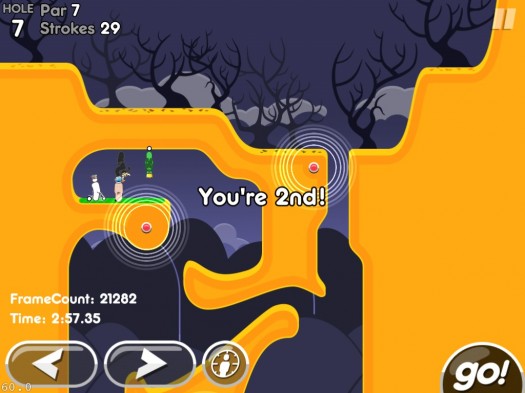 Then of course is the multiplayer. You might be aware that the online multiplayer in Super Stickman Golf was off the charts fun. Up to 4 players frantically raced to see who could get the ball in the cup first on any given hole, and it tended to get pretty crazy with everyone taking their turns all at the same time. That same mode will return in the sequel, and for local multiplayer matches Noodlecake is hoping to bump up the number of players to 8, which I'm sure is just insane. Online will still rock between 2-4 players. There's also an asynchronous multiplayer mode, which may not be as frantic but sure does suit the golf style of play and the mobile nature of iOS devices really well, and I'm sure that will be a hoot too.
We're very eager to get our hands on some Super Stickman Golf 2, and if you feel the same then head over to our forums for some discussion and keep your eyes out for more news and updates in the months to come as development on the title continues.