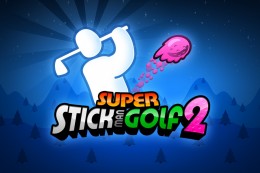 Well, this is cool. Super Stickman Golf 2 is a real thing, and it's coming "later this year" to iPhone and iPad, creator Noodlecake studios has revealed on our message board.
According to the post, Stickman Golf 2 will have "all the classic features and modes you know and love," as well as some pretty exciting additions. New maps, power-ups, hazards, and collectibles will be part of the package. A new puzzle mode will be introduced, too, ushering in some scenario-based content for advanced players. Oh — and asynchronous play has been confirmed.
We've got some screens of the new game below this text stuff, so check them out. You can also check out the original Super Stickman Golf [Free], which is beloved by our community and staff, right now for the price of $0.