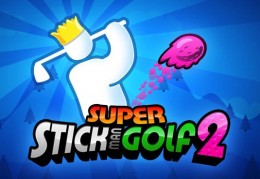 This past July we got the excellent news that a sequel was in the works for one of the most fun multiplayer games around, Super Stickman Golf ($2.99). Not a lot of details were revealed, but the expected sort of stuff was confirmed, like new courses, new power-ups, a new asynchronous mode in addition to its current realtime race mode, and more.
Yesterday, Noodlecake Games dished out a few more juicy tidbits about Super Stickman Golf 2 over on their website. First, there will be different playable characters introduced in the game, like the ninja wearing a clown wig in the screen below. These characters will be able to earn experience and level up through play, offering a new way to progress and unlock content in the game.
Oh and about that clown wig, that's actually part of a new loot system that will see you earning and collecting various hats that can give your characters new abilities. These seem like they might take the place of the special ball types in the current game, but I like the idea of this added customization for trying out different strategies with different perk combinations.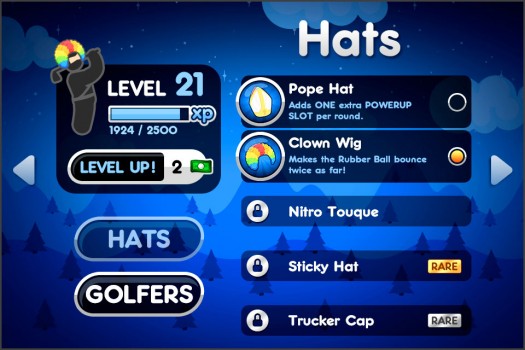 Those are all a bunch of good things, but here's a bad thing: it doesn't look like Super Stickman Golf 2 will make its intended release window of 2012, and instead Noodlecake will be shooting for Q1 of next year. Painful, I know, but I also know it will be a better product for it and so I think it'll be worth the extra wait. And, in the meantime, you can still play the original Super Stickman Golf to brush up on your skills and hit up our forums to chat more about the upcoming sequel.