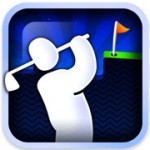 One of my favorite games that never seemed to get a lot of attention is Noodlecake Games' Stick Golf [99¢/HD], which was released in May of last year. Far from being a traditional golf game, Stick Golf was more of a 2D artillery style game where each shot required figuring out the correct trajectory to launch your ball in order to get it into each hole in as few shots as possible. This particular gameplay fit extremely well as a golfing game, and Stick Golf featured a ton of content with 16 different 9-hole courses that ran the gamut from fairly typical to wildly fantastical.
Then this past December, the sequel Super Stick Golf [99¢/Lite] was released, and improved upon the original in practically every way. It contains all of the courses from the first game plus 13 brand new courses, and it introduces special ball types that you can use for extra abilities like more powerful shots or saving yourself from landing in a water hazard. Due to a trademark problem, the game is now known as Super Stickman Golf, and the original game will eventually be renamed to Stickman Golf as well, but this minor name change doesn't diminish the fact that the Stickman Golf series is a total blast to play.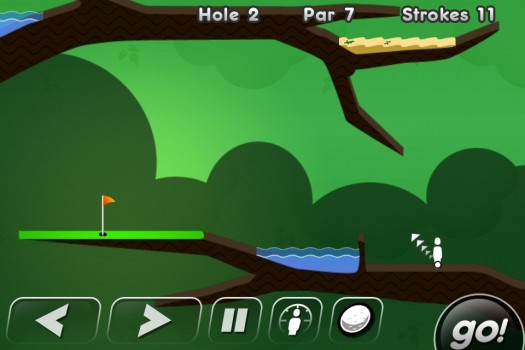 Last week, Super Stickman Golf received its biggest update yet, adding online multiplayer through Game Center for 2-4 players. Unlike what you might expect from online play in a golfing game, which is typically turn-based, Super Stickman Golf's online play takes place in real time. Everybody in the game takes their turn simultaneously, and the winner of each hole is the one who can get their ball into the cup first. Matches can be played on any of the courses in the game, and special balls can be used too granted you've unlocked them in the single player campaign or by way of the IAP Pro Shop.
The multiplayer in Super Stickman Golf is way more fun than it has any business being. The simultaneous play is extremely frantic as you race against other players to be the first to land your ball in the cup. It is a bit difficult to find 4 player matches online at the moment, but Noodlecake is working on improving this issue for a future update. Also, multiplayer can be played locally over Bluetooth or WiFi if you have buddies who have a copy of the game. Best of all is that you can try out this multiplayer yourself for free, as the lite version of Super Stickman Golf contains 3 exclusive courses complete with the online matchmaking through Game Center.
I've always really liked the Stickman Golf series as a single-player experience, but after finally getting around to checking out the new multiplayer I'm even more impressed with just how much fun it is. Players have been loving the game in our forums as well, and there's no reason not to at least grab the lite version of Super Stickman Golf to check out the fantastic new multiplayer feature.