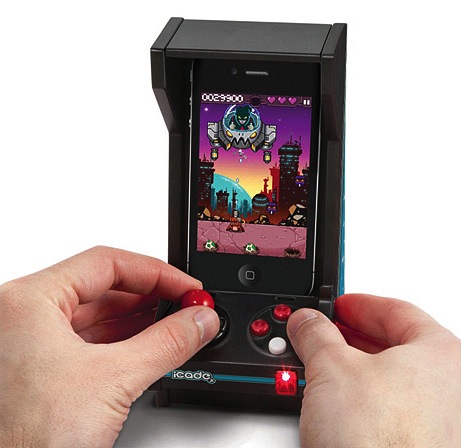 Have you been asking Santa for an arcade cabinet for the past 30 years and every Christmas you wake to look under the tree just to be disappointed yet again? Maybe that's just me, but if you have a similar longing for some button mashing action then I have something that just might ease the pain a bit.
Thinkgeek, the folks responsible for playing us for fools with their awesome iPad arcade cabinet April Fool's joke, and then making it all better by turning it into a real thing called the iCade the following year, has released yet another model of iCade in 2012. It's called the iCade Jr. and it's a miniaturized, adorable-ized version of the regular iCade for your iPhone or iPod touch. It works just like the big version, connecting via Bluetooth to one of hundreds of available games in the App Store that have iCade support built in.
It seems like more of a novelty type thing rather than a hardcore gaming controller, but at its current sale price of $9.99, which is 80% off the regular price of $49.99, it fits perfectly into the novelty item budget zone.
The product description specifically notes that the iCade Jr. is built for a secure fit with an iPhone 4/4S or 4th generation iPod touch, but it will work with the taller iPhone 5 if you leave the top lid flipped open. Not ideal, but I'll take it, and more than likely this will just be my new home for my now retired iPhone 4S. It's just so cute, I have to have one. And ten bucks is super impulse-buy friendly.
Not to try and strain your wallet any further, but I should mention that the iCade Jr. sale is just one part of a massive Winter Clearance sale that Thinkgeek is throwing, and if you're going to order an iCade anyway you might as well flip through all the other cool things they've got on sale. I mean, you might as well just look, right?
Link to Thinkgeek Website: iCade Jr. Mini Arcade Cabinet for iPhone, $9.99