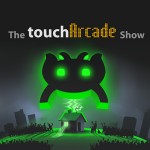 This week on the TouchArcade Show, we push through conversations about muscles, Jared's TV problems, Black Friday and other stupid stuff to bring you the latest, greatest, and the best in iPhone and iPad. At the top of our games section, we dive deep into Walking Dead: The Game and discuss the actual impact of your choices and how fantastic the last episode of the series ended up being. Later, we knock around Jet Set Radio a little bit before jumping into a chat about Ravensword 2.
Of course, we also get to some news in addition to your user comments, questions, and bits of feedback. We appreciate the support. Keep the e-mails rolling in, guys! Oh: and if you're a fan of our more… off-beat episodes, buckle up for this week's episode.
If you'd like to give us a listen, this is a good week to do so. Just bang one of the links just below. Additionally, you can subscribe to us on iTunes and Zune. This is the easiest way to grab us since it's automatic and all.
iTunes Link: The TouchArcade Show
Zune Marketplace: TouchArcade.com Podcasts
RSS Feed: The TouchArcade Show
Direct Link: TouchArcadeShow-080.mp3, 34.2MB
GAMES
FRONT PAGE