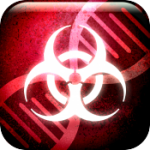 If you haven't given Plague Inc. ($0.99) a try yet, you really should. Originally released in May this year, the game essentially is an incredibly well done iOS port of the various Flash games all centralized around the idea of building a disease deadly enough to knock out the entire human population. We reviewed the game this past summer, and we enjoyed it quite a bit. Plague Inc. has only gotten better with updates, and following the game infecting my household recently and me blabber-mouthing on Twitter about it, the developer shot us over some fun factoids about the game that seemed worth sharing.
First off, here are the top ten names people are giving to their diseases: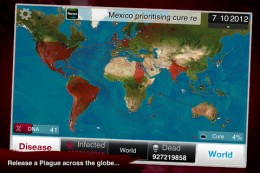 Death
AIDS
T-Virus
Poop
X
Swag
Plague
Stupidity
Love
[Censored]
Ndemic Creations censored a few of the "particularly insulting" disease names in the list they sent over, so we're just going to have to guess what sort of foul thing the tenth most popular disease is. Other notables that made the top 50 include "Zombie," "Religion," "Reddit," "YOLO," "Your Mom," "Obesity," and of course, "Penis." They note that diseases named "Obama" and "Romney" spiked in popularity in November for obvious reasons, and "Death" has been the most popular disease name since the release of the game.
Additionally, "Zombie" has been growing in popularity every month, and they even plan on releasing an update in the not too distant future with the new zombie disease type. In our email exchange gathering data for this story, developer James Vaughan makes a curious observation regarding the universal appeal of the game:
I find it really interesting seeing the names that bubble to the top of the list. Social issue, popular culture, immature comments, scientific concepts, insults, famous names – they are all there. People take the game and shape it into an experience they want to play – realistic, social commentary, humorous, crude.
Another thing worth noting is just how varied disease names actually are. James mentions that close to a million games are played on a daily basis, and the vast majority of disease names are totally unique. "Death," the current frontrunner, is only chosen around 100,000 times a month. Vaughan continues, "Something that the data doesn't show is that a lot of people name plagues after friends, boy/girlfriends, exes, etc."
The game has been downloaded over 2,000,000 times now, and has been a hit amongst our community as well. Aside from the main forum thread for the game, there's also a help and strategies thread for new players who can't quite get over the edge of killing all of humanity.
Seriously though, if you've passed up Plague Inc. in the past for any reason, you should really give it a shot. It's one of those games that is really difficult to make look even remotely interesting in screenshots, which surprisingly enough, hasn't seemed to stop the momentum of the game at all on iTunes charts. If you are playing it, what disease names do you typically use? Are yours on the top ten?